Our era has witnessed an almost unprecedented burst of creativity in music and the arts for the Church.
The Center for Church Music is a place where you can tap into that great flow of energy (either on site or online) in order to:
get new ideas for music and other arts ministries in their various forms
gain a perspective on the music and art of the Church
take time for reflection
connect with the larger endeavor of Lutheran church music and the arts
be inspired by some remarkable leaders and thinkers in our midst
be energized for music and Gospel-based arts ministry
satisfy curiosity
---
From the Director
Holy Cross Day (September 14) 2023
Reflections on Richard Proulx's rich contributions to church music.
"Strong, Loving, and Wise"
"…be strong…endure…reflect…" (2 Timothy 2)
Another season and we are deep into all the planning, recruiting, rehearsing, practicing, and music-making—just some of the tasks of our "high and holy calling" as church musicians. Always a daunting and exciting time of year!
At the Center, I have been deep into finishing up the publication archive of Richard Proulx (1937-2010). Proulx was a major figure in church music, especially as a leader in post-Vatican II Roman Catholic churches. For many of his later years, he was music director at Holy Name Cathedral in Chicago. A prolific composer, thinker, and an exemplary liturgical musician. It would be difficult to overstate his importance and legacy.
One of the anthems that caught my eye was "Strong, Loving, and Wise" [MorningStar 50-8706] Proulx's original text is based on the second chapter of Paul's counsel to Timothy, but it is very likely that the theme and title of the anthem came from a book of the same name on presiding in liturgy by Robert W. Hovda (The Liturgical Press, 1976). Hovda (1920-1992) was also a giant in liturgical reform.
Hovda's description of the skills needed in leading worship apply to us as church musicians, too. We need to be…
Strong—evidencing solid, unwavering personal character, a firm commitment to excellence, and an engaging collegiality that builds effective team ministry.
Loving—continual love for the people in the pew and pastoral concern for our volunteer musicians. All our efforts are focused on forming and strengthening faith, bringing hope and healing to those in need, and vibrancy to Christian worship.
Wise—always learning our craft, seldom perfect but always a first-fruits offering to the Lord.
As we look back over the career and legacy of Richard Proulx, "strong, loving and wise" certainly seems a fitting banner. By the power of the Holy Spirit, may the same be said about us as well!
Blessings on your year.
Barry Bobb
Director
Five Aspects of the Center for Church Music
Read about the five main aspects of the Center that shapes what we do and how we serve.
Resource Room
Books, magazines, recordings, the Schalk American Lutheran Hymnal Collection (541 volumes) and the ever-expanding archives of the original manuscripts of great American Lutheran composers & hymn writers.
Liturgical Choir Music Library
Digital Initiative
All of the volumes in the hymnal collection can be perused online at www.hymnary.org or from this website. See "Hymnal Collection Index."
Many of the original manuscripts are accessible online at the Center's website (including Manz, Schalk, Hillert, Pelz, Thoms, Busarow, Bouman and others...) See "Composer Manuscript Indices".
Website
Devotions, interviews, profiles, essays, forums, ideas, an arts registry
Print publications
Books and monographs in the Shaping American Lutheran Church Music series available through Amazon and Fortress Press
Encouragement of the next generation
Hillert Award in Student Composition---open to any undergrad or graduate student at a Lutheran university or seminary in the United States
Schalk Scholars

Creates awareness and access to current research in the areas of music and the arts
Provides stipends for research as well as publication and venues for presentations for these emerging scholars
Arts Registry
Contact information and samples from composers, visual artists, writers, designers, media artists.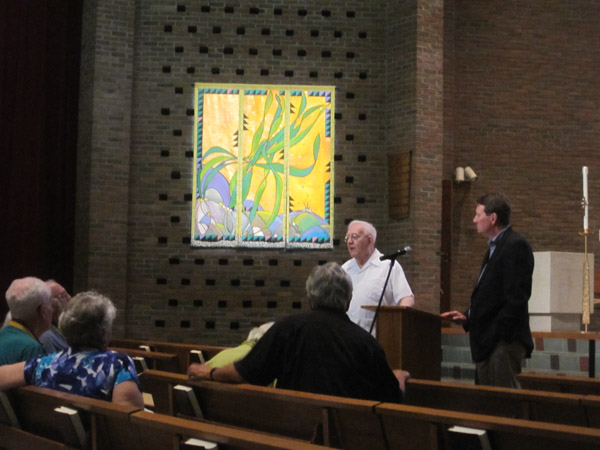 Schalk Scholar Program
The Schalk Scholar program seeks to identify and support up and coming scholars in the area of church music.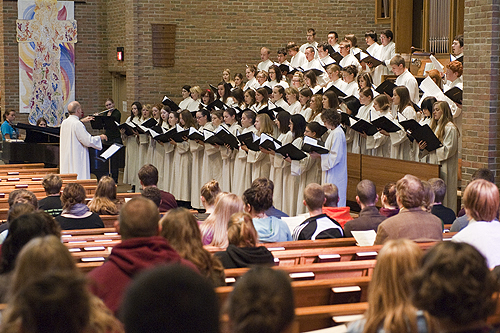 Commit Yourself
Share your time, talents and gifts by becoming involved with the Center for Church Music. Contact the director, Barry Bobb to learn more about the different opportunities available.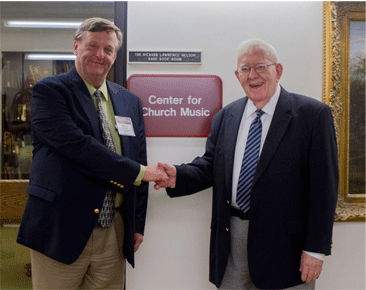 Visit the Center
Visit the Center for Church Music located in the Klinck Memorial Library on Concordia University Chicago's Campus.
Contact Center Director Barry Bobb or call 314-258-2341 to make arrangements.