Stories from the heart of Concordia-Chicago.
The Forester magazine helps keep alumni, parents and friends connected and informed twice a year.
---
Spring 2021
Read the latest edition of the Forester to learn more about Focusing Our Future 2025, the University's new five-year strategic plan.
Previous Edition
If you missed the previous edition or simply want to read it again, you've come to the right place.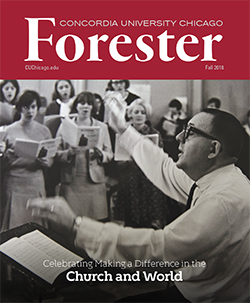 Remembering Carl Schalk
We continue to celebrate the life and legacy of Dr. Carl Schalk (HS '48, BS '52), Distinguished Professor Emeritus of Music and 2018 Spiritus Christi honoree, who recently passed away.
He was featured in the fall 2018 edition of the Forester commemorating his immeasurable influence on church music and his receipt of the Spiritus Christi award. Access the full edition below.
---
Whether it's an idea for a feature, an alumni update or other news to share, we want to hear from you. To submit information for possible inclusion in a future issue, contact us at Forester@CUChicago.edu or 708-209-3111.
To update your address or to be added or removed to the Forester mailing list, please contact us at Forester@CUChicago.edu or 708-209-3111.
Note: In an effort to keep our nearby River Forest neighbors apprised of university news, we send two issues of the Forester per year to local residents. Because this distribution is managed through a third-party source, we may unable to add or remove certain addresses from that list.