Congratulations and welcome to Concordia-Chicago!
Prepare to grow your knowledge and expand your faith with an educational experience designed to guide you toward your purpose in life.
---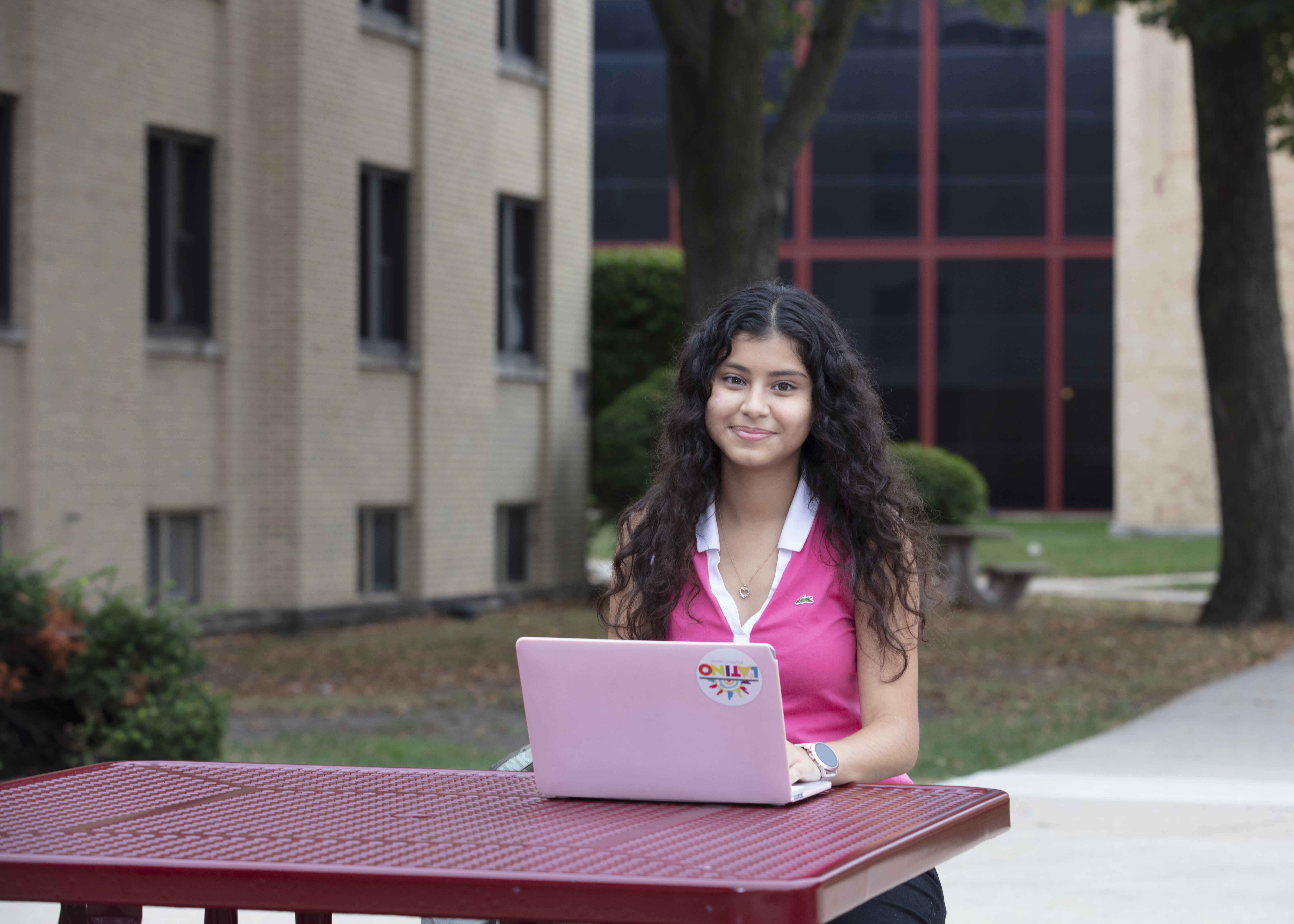 Introduction to the Concordia Connect Portal
Concordia Connect is a customized website from which students, faculty and staff can access many CUC web-based services and information sources from a single sign-on. The portal can be used in any location on or off campus with a working Internet connection.
As an admitted student, you will access Concordia Connect to complete many of the enrollment checklist items on this page. If at any point you need additional assistance, please contact the Office of Undergraduate Admission at (708) 209-3100 or Admission@CUChicago.edu. We are happy to help ease your transition as a CUC student!
Log into the Concordia Connect portal
Access our portal online at Connect.CUChicago.edu.
To sign in, use the personal username and password provided in your acceptance packet.
Login Help

If you have forgotten your username/password or have any problems accessing the portal, contact the Office of Undergraduate Admission at 708-209-3100.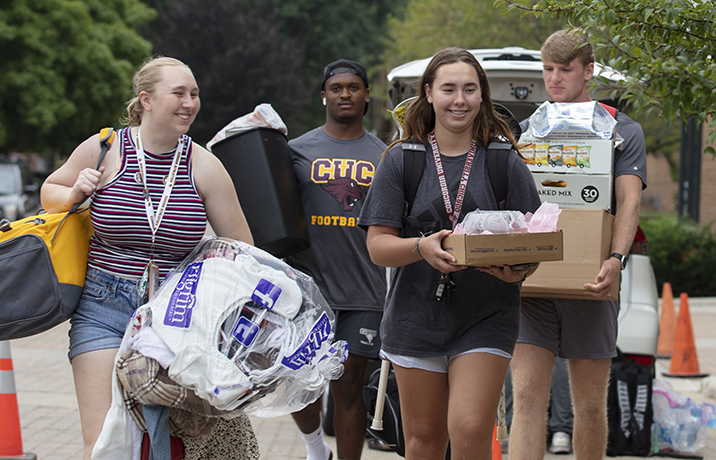 Enrollment Checklist for Incoming Students
Complete this checklist below and you'll be well on track for your first day (open each expander to view next steps). It may seem like a long list but remember: We are with you every step of the way. See you on campus!
Please finalize all details by these dates:
Fall 2023 Students - Prior to Monday, Aug. 28, 2023 (first day of classes)
Spring 2024 Students - Prior to Monday, Jan. 8, 2024 (first day of classes)
File Your FAFSA
To be considered for need-based financial aid, permanent residents and U.S. citizens must file the Free Application for Federal Student Aid (FAFSA). Learn more about financial aid at CUC.
Complete your FAFSA online at FAFSA.gov and use Concordia University Chicago's federal school code: 001666
Each year, your family may file the FAFSA for the upcoming academic year.
Illinois students should file the FAFSA as soon as possible to avoid missing any MAP grant deadline.
The state of Illinois passed the RISE Act, which provides students ineligible to complete the FAFSA an opportunity to apply for state grant funding. The Alternative Application is available now on the Illinois Student Assistance Commission (ISAC) website. Students will be presented with a series of pre-screening questions that will determine eligibility.
Review Your Financial Aid Package
Students can review, accept and/or decline their financial package online via the Concordia Connect portal.
Admitted students who file the FAFSA and complete their financial aid file by CUC's preferred deadline receive an early financial aid package.
Contact your admission counselor with any questions you may have.
Let CUC know of any scholarships or grant award money received from private sources.
As soon as you know that CUC is your college choice, reserve your spot in the entering class.
To submit your $100 enrollment deposit online:
Start by signing into the Concordia Connect
Click the link in the "Fall Enrollment Deposit" or "Spring Enrollment Deposit" block on the Admit – Welcome tab.
Although Monday, May 1, 2023 is our priority deadline for deposits, CUC is committed to working with students to finalize their college plans through the summer.
Start exploring residence hall options. When students live on campus, they meet each other, study together and attend CUC events together. New students can apply for housing as soon as they have submitted their enrollment deposit to the University.
Fall 2023 Students - We recommend you fill out and submit your housing application promptly after submitting your enrollment deposit.
Spring 2024 Students – Apply for housing beginning in mid-September 2023.
Start by submitting your $200 housing deposit online:
Sign into the Concordia Connect
Look for the "Make Your Housing Deposit" block on the Admit - Welcome page.
Then, complete your housing application online:
Sign into the Concordia Connect
Look for the "Housing Application Information" block on the Admit - Welcome page.
Math and English self-placement are intended to ensure that all prospective students have the skills to succeed academically.
ALEKS Math Placement Exam
All incoming first-year or transfer students who still need to complete a mathematics course for their program need to take the assessment. If CUC has not received passing AP scores or transfer credit information before Jump Start, you will be required to take the assessment. Learn more
How can I prepare? ALEKS provides prep and learning modules to help you improve your placement. Starting on May 15, 2023, you can take a practice placement exam at home via the Concordia Connect portal. After that, you can work on modules that ALEKS identifies as needing improvement based on practice exam results.
Proctored online or on campus options are available prior to Jump Start:

By taking the proctored exam at least one week before Jump Start, your Academic Advisor will be able to present a finalized schedule for you at Jump Start that includes your math course.
There is no need to register for the proctored exam if you plan to take it during Jump Start.
To take the proctored exam before Jump Start you must register online:
Sign into the Concordia Connect
Go to the "ALEKS Math Placement" block on the Admit-Jump Start tab.
Then select the "Register for the Proctored Exam" link.
---
English Directed Self-Placement Questionnaire (DSP)
The English DSP is required of all new traditional undergraduate students in preparation for the Jump Start Orientation program. Take the questionnaire as soon as possible; it must be taken online well in advance of your academic advising session.
The purpose of this placement questionnaire is to help you decide which first-year English composition course will best suit your academic needs and lead you to a course that will help you to be a successful writer.
To take the English DSP online:
Sign into the Concordia Connect
Go to the "Take Directed English Self-Placement Questionnaire" block on the Admit-Jump Start tab.
---
Summer Transitions Math Workshop
The Math Workshop supports incoming students and helps them succeed academically in their first semester. It is ungraded and will have no impact on grade point average.
CUC identifies students who will benefit from this 4-week program and invites them to attend at no charge.
Students must pay their enrollment deposit before registering for this opportunity. Additional details are provided to those who qualify.
Jump Start is our orientation program designed to guide your transition to CUC—and it's required for ALL new students. Your family is encouraged to attend with you. Learn more about Jump Start orientation.
NOTE: You will first need to submit your enrollment deposit in order to register for Jump Start.
Fall 2023 Students
Attend a Jump Start orientation session before classes start in August.
Jump Start orientation sessions are typically offered in June, July and August. Refer to Concordia Connect for availability.
Register for Jump Start beginning on Feb. 1, 2023 via the Concordia Connect portal.
Transfer Students: Look for the "Register for a Summer Transfer Jump Start" block on the Admit - Jump Start tab.'

Freshmen: Look for the "Register for a Summer Jump Start Session" block on the Admit - Jump Start tab.
Transfer Students: Look for the "Register for a Summer Transfer Jump Start" block on the Admit - Jump Start tab.
Spring 2024 Students
You must complete University Check-In prior to attending the Winter Jump Start orientation session.
Details about the Winter Jump Start orientation session will be available beginning in September 2023.
Register for Winter Jump Start beginning in mid-September 2023 via the Concordia Connect portal. Look for the "Register for Winter Jump Start" block on the Admit - Jump Start tab.
High School/College Transcripts
CUC requires official transcripts—ones that are produced, certified and received from the issuing institution or testing service. Academic records received in any other condition (e.g., student submitted) are not considered official.
Freshmen: Please submit a final official high school transcript with your date of graduation listed.
Transfer Students: If you were admitted with college coursework in progress, promptly request that final official transcripts be sent from all institutions.
Official transcripts may be sent electronically (recommended) to admission@CUChicago.edu or mailed to:
Concordia University Chicago
Office of Undergraduate Admission
7400 Augusta Street
River Forest, IL 60305
---
AP, CLEP or IB Scores
CUC recognizes that college-level academic competence may be achieved many ways. Alternative credit earning options are available at CUC through Advanced Placement (AP) scores, College Level Examination Program (CLEP) and International Baccalaureate (IB) programs.
If you've completed exams through any of these methods, you may receive course credit based on your scores/transcripts.
Request the testing company send your AP/IB/CLEP test results to CUC's Office of Undergraduate Admission.
Illinois State Law and CUC policy require all Concordia University Chicago students who are taking face-to-face classes to provide proof of immunizations through the Med+Proctor within one month of arrival on campus. Learn more.
Click on the link "Submit your Immunization Forms" in Concordia Connect, which can be found on the CUC Experience tab. You will then need to log in with your CUC username and password.
In addition, student-athletes are also required to complete the Cougar Medical Packet on the ATS portal. For more information, contact your coach or Head Athletic Trainer
at 708-209-3120.
All new residential and commuter students are required to attend their session of University Check-In. During this time, residential students move in.
Fall 2023 Students
Students must sign up for their August time slot. Over the summer, watch the student's CUC email address for specific instructions and how to request an early University Check-In date, if needed.
The Welcome Weekend is CUC's official welcome to all new students. Activities on Friday are mandatory for all new students, while Saturday activities are optional but strongly encouraged. It is a weekend full of activities, events and information. In addition, it is a great way to meet other students, become familiar with campus and interact with student leaders in the CUC community.
Spring 2024 Students
Details about Spring 2024 University Check-In will be available in late fall 2023:
To view this information, sign into the Concordia Connect portal.
Look for the "Spring Check-In Information" block on the Admit - Welcome page.
Watch your personal email for updates from the Office of Undergraduate Admission or contact us at Admission@CUChicago.edu with any questions.
Starting this fall, purchasing textbooks will be easier at CUC. All new undergraduate students are automatically opted in to Slingshot's Choice textbook program. This subscription service pre-packages all course materials in advance, so there's no need to place an order!
Textbooks can be delivered to your residence hall room, picked up at the campus bookstore or shipped to directly your home. Charges will be added to your student billing account, and this option is risk-free—opt out at any time. Return course materials within the first 7 days, and easily make adjustments when your schedule or textbook changes occur.
Log into Concordia Connect to manage your new student account. Many questions about the textbook ordering process can be answered on the Slingshot FAQ page or by emailing support@slingshotedu.com.
---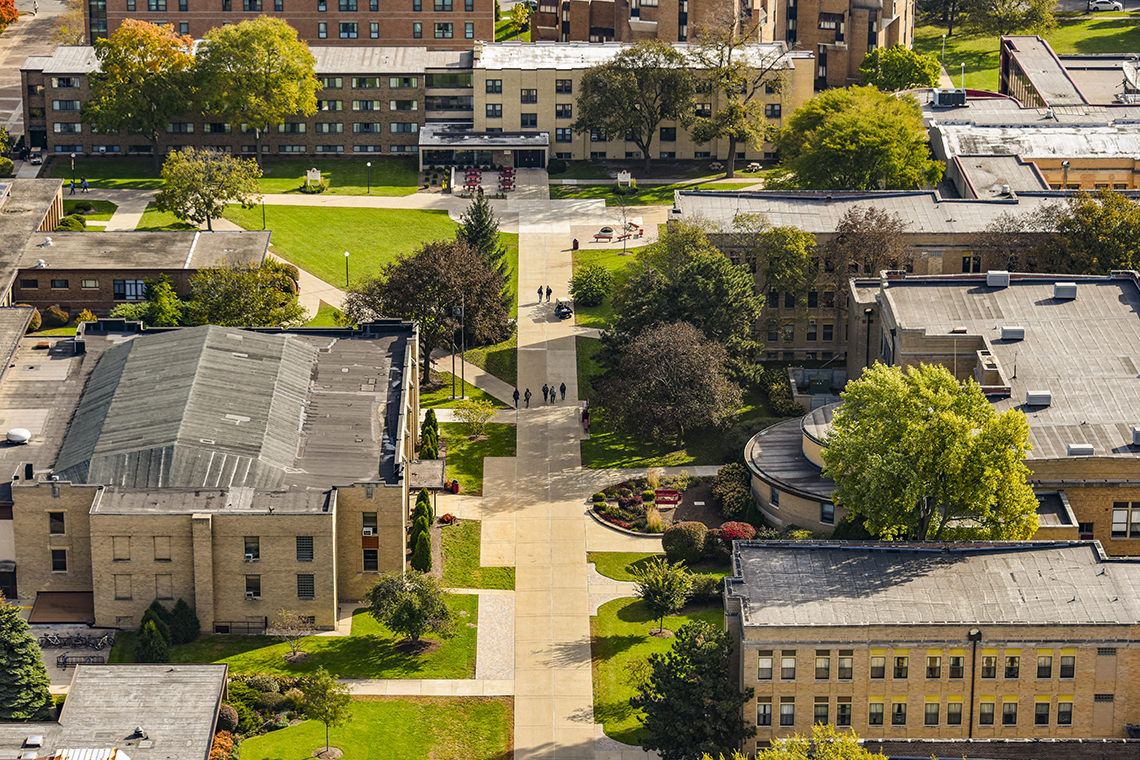 Visit Campus
Explore campus and imagine your college home in suburban River Forest, just 10 miles from Chicago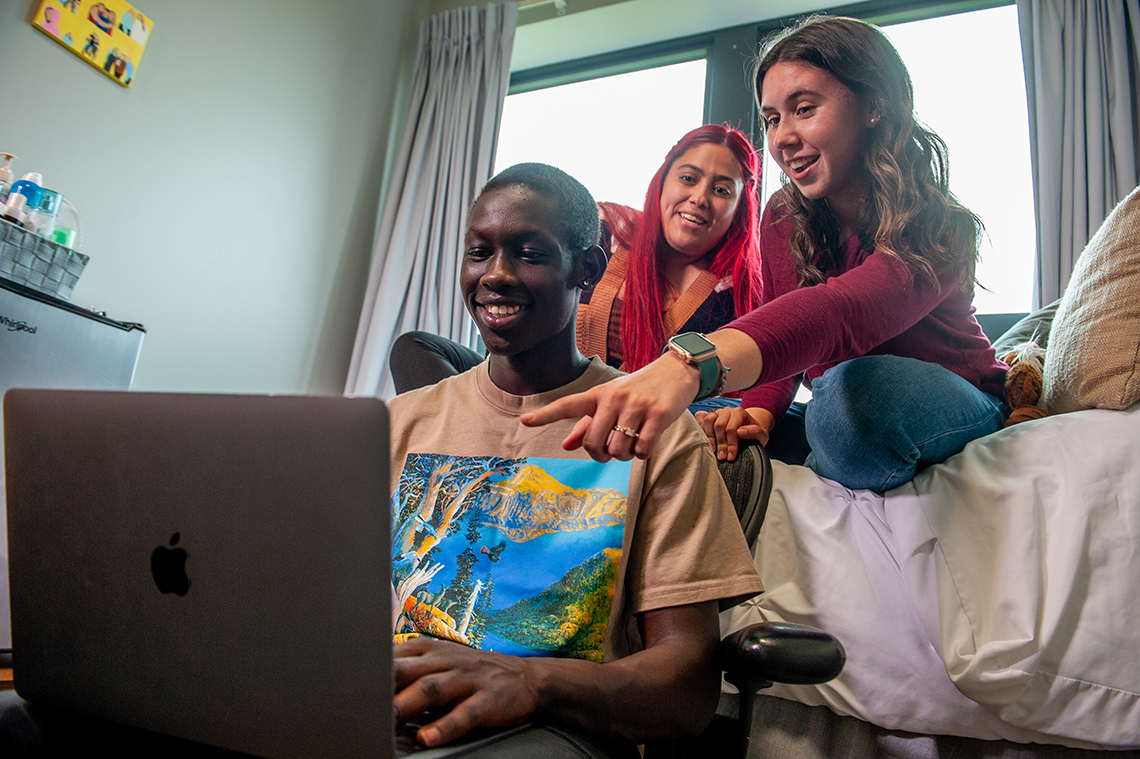 Student Life
Participate in a diverse range of student activities and programs geared towards enhancing your student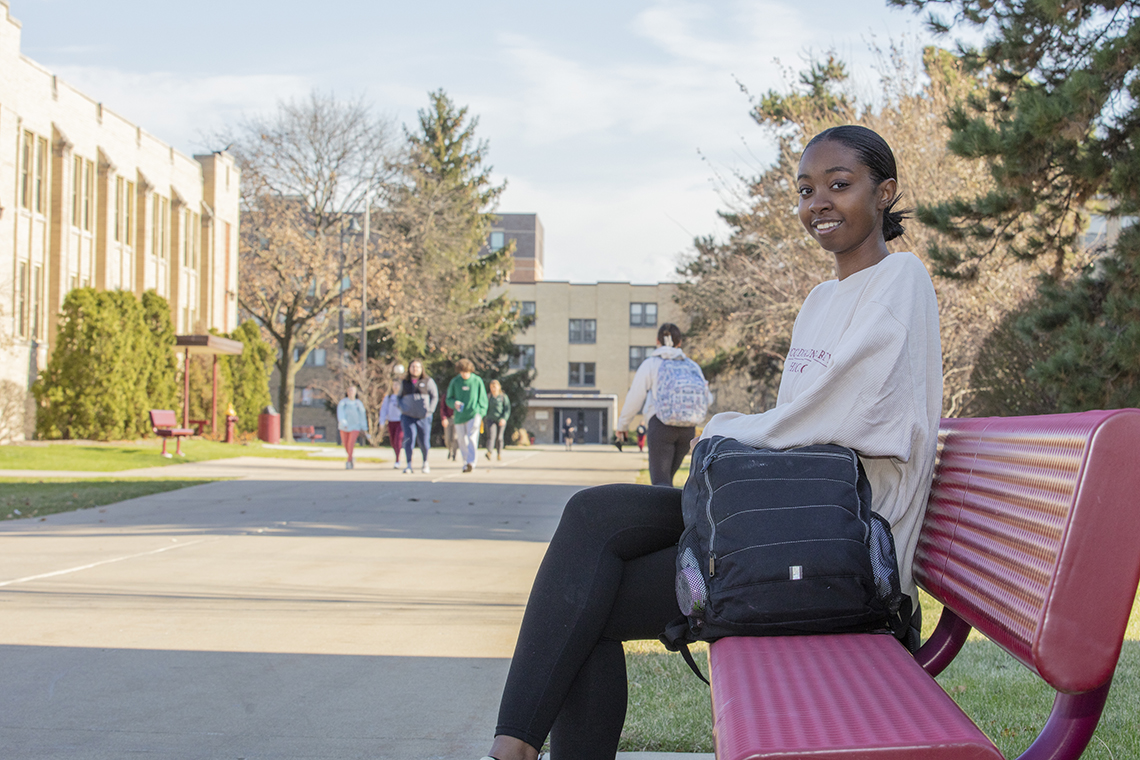 Financial Aid
Support the pursuit of your vocational calling with a variety of financial assistance offerings.