Celebrating Our Graduates
The hearts of CUC's faculty, staff and administration join you in grief over having to postpone the face-to-face celebrations of your achievements. In this difficult time that tests our patience and resilience, we encourage each of you to learn from your experiences and continue to grow as an individual and child of God.
Plans are currently taken place to celebrate our Class of 2020 and Spring Class of 2021 with an in person ceremony. Details are provided below.
In May of 2020, we held four separate virtual ceremonies to honor and acknowledge the Class of 2021. Videos of these ceremonies can be viewed on demand below.
Please note that degree completion is a separate process from the ceremonial rite of commencement and was not be affected or delayed by the virtual ceremony format.
---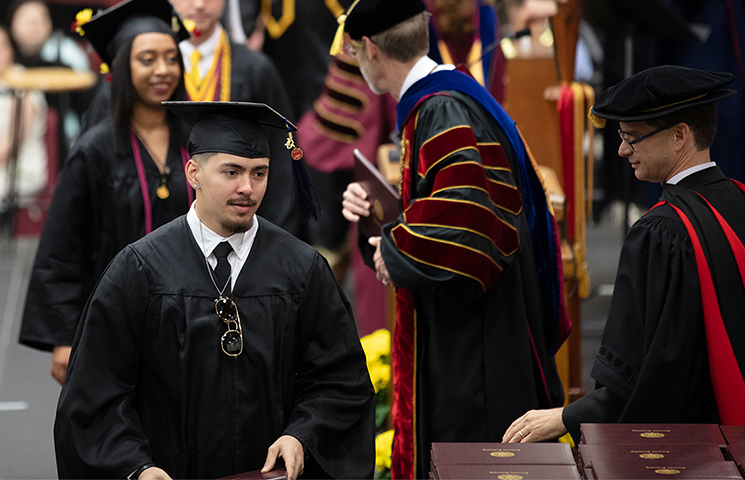 Celebrating the Class of 2020 and Spring Class of 2021
Concordia University Chicago is honored to invite the Class of 2020 and Spring Class of 2021 to take your official walk across the commencement stage. This commencement weekend is dedicated to alumni who were previously unable to celebrate in person.
In Person Commencement Weekend
SAVE THE DATE

Saturday, September 18, 2021
Graduate Ceremony
1:00 p.m. – Class of 2020
4:00 p.m. – Spring Class of 2021

Sunday, September 19, 2021
Undergraduate Ceremony
2:00 p.m. – Class of 2020 & Spring Class of 2021
Additional details and registration information will be shared on this webpage by the end of June. To ensure you receive your formal mailed invitation, email the Office of Alumni Relations to confirm your mailing address.
---
Service of Praise and Consecration
Our final worship service of the academic year celebrates all graduates and offers special recognition to our Church Work students.