Understanding Your Exam and Frequently Asked Questions
---
Why a Mathematics Placement Exam?
The ALEKS placement exam is administered in order to ensure the following:
That you are successful in your first mathematics course at CUC
That you move efficiently toward completing graduation requirements
Taking a course that you are not prepared for can set you back a semester and negatively impact your GPA. Taking a course you do not need is a waste of your time. The exam is a proven effective placement instrument when students follow instructions. Students who access unauthorized resources will find themselves placed too high and at risk of failing their first math course at CUC.
Who must take the placement exam?
All entering first-year students or transfers that still need a mathematics course to complete their program must take the ALEKS placement exam online before their Jump Start session. If your AP scores or transfer credits have not yet been received by CUC at the time of your scheduled Jump Start, you will need to take the ALEKS assessment.
What is ALEKS?
ALEKS is a computer-based, responsive exam that asks different questions based upon your responses to previous questions. In this way ALEKS can zero in on your strengths and weaknesses and find the best first course in mathematics to suit your needs. The beauty of the ALEKS product is that it includes the option of practice modules that will help you improve your placement or help you do better in the course you take.
When do I take the placement exam?
The placement exam is taken online at home. You must complete the exam before your Jump Start session. But if you complete the exam sooner, you afford yourself the opportunity to work to improve your score. Learn more about taking the assessment at home.
How Can I Improve My Score?
After taking the exam, if you want to improve you score, ALEKS provides individualized sets of learning modules geared toward your personal performance. You access the ALEKS Prep and Learning Modules (PPL) through the Jump Start tab, just as you accessed the exam. You must spend at least 8 hours in the PPL before retaking the exam. Additionally, a period of 48 hours must pass between completing one exam and starting the retake.
How long will the assessment take?
The assessment will ask up to 30 questions. You are allowed 2.5 hours to complete the exam, though most iterations are completed in under an hour. You need to complete the exam in one sitting.
How do I get started?
Log in to Concordia Connect using your CUC username and password. Go to the Jump Start page. Information about the placement exam will be found in the ALEKS Math Placement portlet on the Jump Start page.
Click "Take the Exam: First Year Students" or "Take the Exam: Transfer Students" depending on your status (note, this link will only be live during months preceding Jump Start sessions)
You will complete a tutorial to learn how to use ALEKS prior to beginning your assessment. We highly encourage you to take time to complete the entire tutorial so you will be comfortable navigating all the problem types.
After your initial assessment, check the Math Placement Score Table to see the courses in which you are tentatively eligible to enroll.
If you did not earn the proficiency score you think you should, don't worry. You can utilize the prep and learning modules to review.
If you earned the placement result needed to enroll in a particular course, you are still eligible and encouraged to utilize the ALEKS learning modules to review and keep your skills sharp.
Do I need a calculator?
No calculator is allowed on the exam besides the online calculator provided by ALEKS. It is provided on specific problems and disabled on others. Working through the tutorial will help you learn how to use the calculator provided. To use a calculator other than the one provided by ALEKS on-screen violates the integrity of the exam. Students who access unauthorized resources will find themselves placed too high and at risk of failing their first math course at CUC.
It is just a placement exam, why can't I get a bit of help?
The exam and placement cut-off scores are calibrated with the understanding that you are taking the exam with no outside help or calculator. You are not permitted to leave the ALEKS site or access any other internet sites or calculators while taking the exam. By following these rules, you will have the most accurate assessment of your current skill set. If you get help or use a calculator when not permitted, ALEKS will not be able to advise you properly of the modules you should work on to improve your performance. You will likely be placed in a course beyond your skill-level, putting yourself at risk of failing your first CUC math course.
Have additional questions?
Your ALEKS score indicates which course you are ready to begin. If you take the exam multiple times, the best score will be used to determine placement. Remember, you can work to improve your score by working on the ALEKS Learning Modules. With some review you may be able to eliminate a prerequisite course or do better in the course you have placed in. If you have questions about which course is required for your program of study, consult with an Academic Advisor.
Minimum ALEKS Score

Concordia-Chicago Math Course Eligibility

1

MAT 0098-

Basic of Mathematics

14

MAT 1000-

Fundamentals of Math

22

MAT 1010-

Advanced Intermediate Algebra

30

MAT 1400-

Descriptive Statistics

35

MAT 1411-

Math Concepts: Number & Measurement

35

MAT 1412-

Math ECE Teachers: Geometry, Statistics, Function

35

MAT 1550-

Finite Mathematics

46

MAT 1805-

College Algebra

55

MAT 1812-

Math Elementary Teachers: Algebra, Geometry, Statistics

55

MAT 2000-

Statistics

61

MAT 1820-

Pre-Calculus

61

MAT 2400-

Calculus for Business and Life Sciences

76

MAT 2500-

Calculus I
View Concordia-Chicago's course descriptions in the Academic Catalog.
Flowchart of Five Common Course Sequences
Courses below the dotted line require college credit.
Courses above the dotted line are prerequisite courses that can be satisfied by approved college credit or by ALEKS Placement.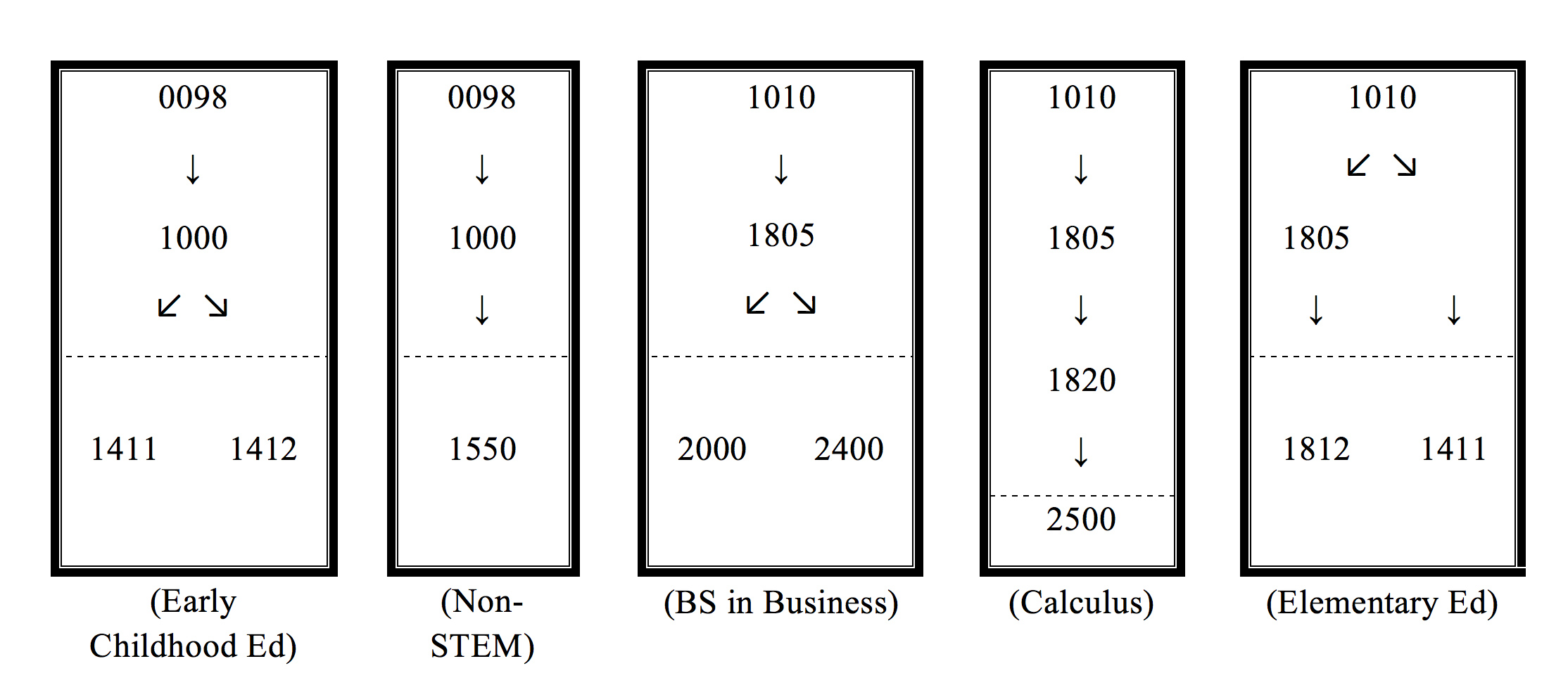 Check the Course Catalog or ask your Academic Advisor for the sequence that matches your program.