Dr. Russell P. Dawn, President
Dr. Russell Dawn currently serves as the twelfth president of Concordia University Chicago.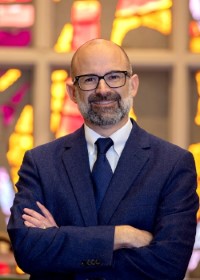 From 2012 to 2019, Dr. Dawn was on the faculty of the Department of History and Political Thought at Concordia University Irvine in California. Between 2010 and 2012, Dr. Dawn served on the faculty at Lindenwood University in St. Charles, MO. At Concordia-Irvine, he held several administrative positions, including director of the Vision-Mission-Vocation program, member of the academic council, chair of the education policies committee and director of the pre-law program.
With nearly a decade teaching students, Dr. Dawn was eager to share what drew him to the field of education. "I had never cared much about history when I was young, but I began to take interest after law school. Then, reading history and the writings of historical figures blew my mind." he recalls. "I began to understand myself and the world around me in new ways. Eventually I knew that I needed to share that experience with the next generation."
When asked about the new leadership role, Dr. Dawn expressed sincere gratitude for the opportunity to serve Concordia-Chicago given its 155-year history of preparing students for vocational service in the Church and the world. "Higher education has been a central part of Lutheranism for 500 years, and Concordia-Chicago is poised to set the standard in Lutheran higher education as we embark on the next 500 years."
He holds a B.S. in finance from Arizona State University, and a J.D. and MBA from the University of Colorado at Boulder. In Colorado, he pursued a career in law and finance, working as an associate attorney for Rothgerber Johnson & Lyons LLP from 1994 to 2000, associate investment banker for Stifel, Nicolaus & Co. from 2000 to 2001, and assistant general counsel for Cenveo, Inc. from 2001 to 2003.
Dr. Dawn later returned to academics, attending Oxford University to earn a B.A. in theology, M.St. in church history, and D.Phil. on the history of theology and politics in 17th-century England.
"Through this winding journey of my professional life, God has blessed me with knowledge and experience in law and business as well as history and theology. He used that journey to bring me to The Lutheran Church—Missouri Synod, and now I am committed to using all that He has given me to lead this historic institution to become the best Lutheran university in America."
Dr. Dawn is most looking forward to developing new professional relationships with faculty, staff, administrators, students, friends of the university and beyond. "It takes so many people with so many different kinds of gifts to make a university hum, and I can't wait to get to know them!"
The new president sees unlimited opportunities for the future of Concordia-Chicago. "With faithful, talented people, dedication to the liberal arts as well as to cutting-edge programs, and a commitment to serving our students, the University's future is truly bright."
On a personal note, Dr. Dawn is excited to establish himself and his family in the Oak Park-River Forest community. He and his wife Sharon are the proud parents of two daughters. The Dawn family is also bringing along two other sisters, their Shi-chon canines. These tiny California dogs, weighing only a mere 25 pounds between them, will soon enough encounter snow that's deeper than they are tall.
When posed with the age-old Chicago baseball allegiance question "Cubs or White Sox?" The former Missourian had no difficultly answering, "the St. Louis Cardinals, of course!"