Focusing Our Future 2025 (F2 for short) is an exciting and important step in Concordia University Chicago's pursuit of its vision. It is our five-year strategic plan to lay the critical groundwork that will position the university for a thriving future. ​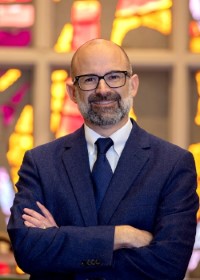 F2 touches every aspect of university life in targeted ways that are both aspirational and achievable. The plan is strategic as a means of propelling Concordia-Chicago from the foundation of its mission to the goal of realizing its vision. It is tactical in its 30 specific, measurable initiatives. Each initiative has Key Performance Indicators associated with it so we can keep track of our successes and correct ourselves where needed. F2 is about our students, our finances, our mission, and our community.
F2 is vibrant and dynamic! It centers our work on clear steps that will have tangible results within five years. Some of those steps are large and some are small, but all are important for Concordia-Chicago. All are within our reach.
If you want to know more about Focusing Our Future 2025 and how you can partner with us in this exciting plan, please contact the President's Office at 708-209-3003. The future is coming, and Concordia-Chicago is ready to lead the way!
Russell P. Dawn
President