---
Application Deadlines
Jan, 03
Domestic Students
Spring 2024 Application Due | Classes start Jan. 8, 2024
Nov, 08
International Students
Spring 2024 Completed File Due | Classes start Jan. 8, 2024
*Early Childhood Education and Reading, Language and Literacy are not offered for the summer semester*
---
Concordia University Chicago's EdD program in Leadership focuses on knowledge and enlightened perspectives about innovative leadership practices. The overarching curriculum focuses on knowledge management, decision making, conflict and change management, communication and unique approaches to leadership.
Leadership skills are in high demand in every type of organization and in every country throughout the world. Graduate degrees in leadership are adaptable to a variety of careers in for-profit, not-for-profit, publicly held and government organizations. This degree, and its associated specializations, is designed for professionals who want to take on leadership roles in their profession, association or their own business. Leadership degree holders are at a unique advantage because the skills learned and mastered are highly desired and universally appreciated.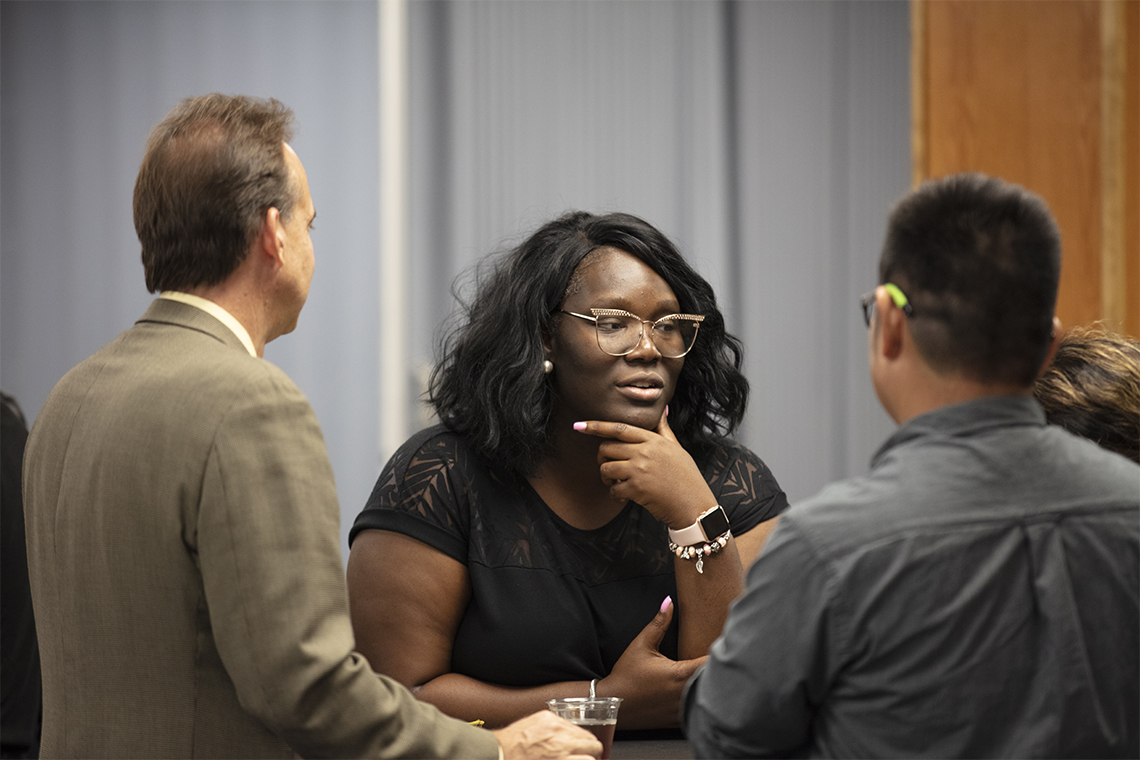 Doctoral Specializations
To view all requirements for each individual specialization, please refer to the Academic Catalog.
Seminar in Higher Education (EDU 6015)
In addition to the base program curriculum, international students attending face-to-face classes on the CUC campus are required to take the Seminar in Higher Education, a 3-credit course.
Course Description
This course will serve as an introduction to the U.S.-based higher education learning environment. Students will work to understand Concordia University Chicago's academic conventions, technological systems and communication culture while developing English grammar, reading, writing, speaking and listening skills.
The Seminar in Higher Education is an excellent opportunity for students to further develop critical skills to help them to be successful in their academic program. This 3-credit course is mandatory for international students attending face-to-face classes on the CUC campus.
Course Objectives
Developing knowledge about local and academic culture
Building grammar, reading, writing, speaking and listening skills
Conducting graduate-level research with the use of electronic and library resources
Developing note-taking strategies for coursework
Reflecting on the U.S.-based education system
Academic support for work in students' current coursework will also be provided during or after class. Guest speakers include representatives from the campus library, writing center and technology services.
Student feedback for the Seminar in Higher Education
After taking the Seminar, I have the ability to perform more professionally in my assignments.

The instructor was very dynamic and a good listener. He gave feedback and made sure all the students understood.

The hands-on activities after the lessons helped my learning experience.

The professor truly cares for the students. He helps students individually and encourages us to support our peers.