Concordia University Chicago's Distinguished Alumni Awards annually honors individuals who have made outstanding contributions to their fields of endeavor, their communities, their churches, and who exemplify the University's core values of Christian Faith, The Individual, Excellence, Integrity, and Service.
Established in 1966, the Spiritus Christi is presented to an individual who has performed his or her responsibilities with unusual effectiveness and influence, and with the highest quality of service to the Church at large. Their character and integrity have been exemplified through actions that have directly and profoundly improved the quality of life for others.
---
2021 Spiritus Christi Honoree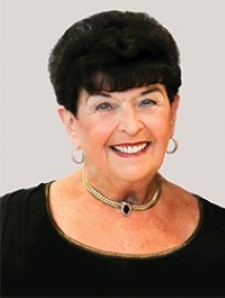 ---
Celebrate this year's honorees at Maroon & Gold
Saturday, September 26, 2021
---
Spiritus Christi Awards
Nominations Open for the 2022 Spiritus Christi
CUC's Alumni Association awards committee solicits award nominations throughout the year and reviews materials submitted for each candidate. The committee then determines those persons whose achievements most closely fit the criteria for the award and deemed most deserving of recognition. The selected individuals are then recommended to the Association's Board of Directors. Subsequently the Foundation Board of Directors and University's Board of Regents confirm approval of recommended individuals for honoring.
Deliberations of the awards committee and the boards are kept confidential. Selected awardees are expected to make every effort possible to attend and accept their award in person at Maroon & Gold, held annually on the last Saturday of September.
To nominate an individual for any of CUC's Distinguished Awards, please review selection information and submit a completed nomination form and letters of support (strongly encouraged) from others who know the nominee and his/her accomplishments. Nominees may fit criteria for more than one award. Individuals are encouraged to discern and deliberate which award best fits selection.
Submissions must be received no later than December 1 to be considered for the next award cycle. (For example, submissions for 2022 must be received by December 1, 2021). Nominations may be submitted via email Alumni@CUChicago.edu or mail to:

Distinguished Awards
Attn: Office of Alumni Relations
Concordia University Chicago
7400 Augusta Street River Forest, IL 60305
1966 - Gertrude Doederlein
1966 - Herman Schaars
1968 - Hugo Gehrke BS '32
1968 - John Rieck BS '20
1968 - Frederick Trinklein BS '45
1969 - Norman Brinkman BS '32
1969 - Moses Dickinson
1969 - Melvin Luebke BS '45
1970 - Melvin Kieschnick BS '50
1970 - Arthur Wittmer BS '28
1970 - Leonard Ramming BS '34
1971 - Walter Bleke BS '45, MA '61
1971 - Martha Boss
1971 - Edwin W. Haack
1971 - Erwin Paul
1972 - Morella Mensing BS '42
1973 - Robert Demske BS '40
1973 - Herold Gersmehl BS '36
1973 - Emil Ruprecht BS '23
1974 - Roland Eggerding BS '46
1974 - Elfrieda Miller
1974 - Walter J. Bellhorn
1975 - Paul Bouman BS '39
1975 - Edward Klammer BS '40
1975 - Adolph Rittmueller
1977 - Wililam A. Kramer BS '27
1979 - Elmer Jackisch BS '16
1980 - Robert Zimmer BS '55
1980 - Herbert H. Gross BS '25
1981 - Erna M. Rueggeberg
1981 - Dorothy Schoknecht
1981 - Clara Werner
1982 - Elizabeth (Belencak) Duda BS '52
1983 - Henry O. Koeneman
1983 - William G. Lusthoff
1983 - Verna Rahdert BA '76
1984 - Michael J. Duda
1985 - Roman Valleskey BS '48, MA '65
1986 - Arnold C. Stoppenhagen BS '35
1987 - Edna Messerschmidt BS '42
1988 - Dennis Janko BS '60
1989 - Carl Middeldorf BS '48
1989 - Sharon Bolin
1990 - Alfred Scheiwe BS '22
1993 - Ralph Droege BS '54
1993 - Ralph Schultz BS '54
1994 - Walter Hartkopf BS '37
1994 - Al H. Senske
1995 - Julia M. Foard
1996 - Dale Busse BS '57
1996 - Lawrence Meinzen BS '49
1997 - Melvin Block BS '61, MA '66
1997 - William Griffen MA '66
1998 - Richard Blatt BA '60, MA '66
1999 - Roy D. Siefker MA '66
1999 - Tim Eickstead BA '80
1999 - Jeanne Cordova2000 - Norman Sell
2002 - Duane Hingst BA '53
2002 - Terrance Reynolds
2003 - Paul Crisler BS '60
2003 - Lawrence Sohn BS '59, MA '70
2003 - Mary Giese BA '69
2004 - Thomas Ries
2005 - Jay Christopher
2005 - Mary Nelson
2006 - Marvin Bergman
2006 - Carol Stellwagen
2007 - Richard Bimler
2008 - Richard Vie
2009 - David Widenhofer BA '67
2010 - Jeannette Lietzau BS '62
2011 - Gerald Brunworth BS '60
2012 - Glenn A. Lucas
2013 - Arleen Christian BS '50
2013 - Robert Christian BS '49
2014 - David R. Brandt BS '54
2015 - Aaron Dickerson
2016 - Matthew Hoehner BA '98
2017 - Norm Young BS '56
2018 - Carl Schalk HS '48, BS '52
2019 - Mary (Holl) Scott BA '80
2020 - Marva (Gersmehl) Dawn BA '70
2021 - Judith (DeCoste) Duda BS '58