Stay connected with your classmates and support Concordia-Chicago's ministry and mission.
Expand your network and deepen your commitment to your alma mater.
Concordia University Chicago's Alumni Association was established by the Class of 1914 to encourage alumni connections as well as to support the school's ministry. More than 100 years later our alumni program continues this mission of its more than 41,000 graduates.
---
Celebrating the Class of 2020
Advanced registration for the Class of 2020 T-shirt (Summer and Fall candidates) is now closed. A limited number of extra shirts may be available.
Shirts are now being produced and will be ready for pick-up or delivery by mid-November. An email will follow when shirts are on their way.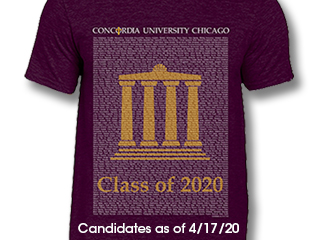 Contact the Office of Alumni Relations with questions at 888-258-6773 or alumni@CUChicago.edu.
The Alumni Association Annual Meeting, held on Homecoming Saturday, is a revitalized tradition to help graduates stay connected with our alma mater wherever they serve and lead. Whether attending in person or online, meet the current Board of Directors (below), gather updates about exciting University plans, and learn about growing membership benefits.

Joel Zielke BA '05, Chair
Elmhurst, IL
Berkshire Hathaway HomeServices
Andrea Anderson BA '79
New Port Richey, FL
Retired Educator and Administrator
Scott Bottjen MBA '16
Phoenix, AZ
Paige Craig BA '99, MBA '14
River Forest, IL
Concordia University Chicago
David Dwyer BA '11, MBA '12
Plano, TX
Frisco Rough Riders Baseball
Paul Enderle BA '93, MA '98, PhD '14
Oak Lawn, IL
Oak Lawn-Hometown School District 123
Jan Fisher BA '76, T75 '06
Des Plaines, IL
Retired Educator and Administrator
Matthew T. Frick BA '07
Indianapolis, IN
Lutheran High School of Indianapolis
Andrea (Simpson) Lohman BA '82
Kirkwood, MO
Zion Lutheran School/St. Charles, MO
Maritza Medrano BA '10, MBA '13
Chicago, IL
Illinois Health and Hospital Association
Paula (Eckert) Wegner BA '68
Roselle, IL
Retired Educator and Bank Executive
* as of 7/22/20
The Alumni Association Board of Directors focus on four objectives and look to fellow graduates to assist in:
Want to get involved? Contact the Office of Alumni Relations at 888-258-6773 or alumni@CUChicago.edu.