Concordia University Chicago's highest academic honor for new students is designation as a President's Honor Scholar or a President's Community College Transfer Scholar. Meet this year's bright, impressive scholars below, and check out the full story in the latest issue of the Forester.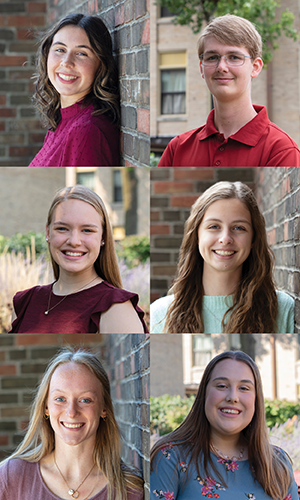 Matthew Clayton, a theology major from Mascoutah, IL, is continually finding ways to learn through his experiences outside the classroom, whether through the fiction he reads or engaging travel abroad. The allegorical stories of "The Chronicles of Narnia" helped him see how God provides what we need for happiness, which led him to reflect on Philippians 4:12: "I know what it is to be in need, and I know what it is to have plenty. I have learned the secret of being content in any and every situation."
Nadia Beadle, a Lutheran teacher education major from De Land, IL, looks to the Bible for guidance when dealing with difficult situations, and is not afraid to be outspoken about her Christian beliefs. "I have security in my heart from God that love is the most important thing. Doing Jesus' work on Earth is boldly and confidently showing His love," she says.
Gabrielle Mintrup, of Roselle, IL, has had an interest in solving crimes and making the world a safer place ever since she started reading Nancy Drew books as a child. As she got older and reflected on the talents she was blessed with, she made a goal to work as a forensic accountant for the FBI. Now an accounting major at CUC, she says, "I am very fortunate to have this passion for what I want to do with my life, since most people my age are still trying to figure it out."
Amanda Poynter, of Batavia, OH, is a dedicated student who is consistently ready to learn. She is particularly interested in American history and digital art and photography, both topics in which she earned academic awards for achievement in high school. As she studies to become a director of Christian education, she hopes to influence children and adults with the knowledge that God has a purpose for their lives.
McKenna Stanley, a director of Christian education major from Hampshire, IL, believes that everything that has happened in her life, both good and bad, has helped to strengthen her faith and make her the person she is today. "I was created for a bold reason and sometimes God puts me through the deep waters to show me that I have the ability to be strong, courageous, and get through any trial or tribulation," she says.
As a member of the Phi Theta Kappa honor society at Schoolcraft College in Livonia, MI, transfer scholar Margaret Shasko was blessed to work alongside others and engage in the community. She worked on the Red Wagon Literacy Project, where she organized donation drives for books and school supplies for K-12 students. She also served in the Scholars Tutoring Program, where she was able to develop her teaching skills. As she continues her elementary education degree at CUC, she knows both of these experiences will serve her well.
---