The Ferguson Art Gallery at Concordia University Chicago presents the exhibit, "Photography and Fiber Reveal God's Beauty," featuring works by CUC alumnae Anastasiya Camp BA '20 and Sara Nordling BA '85. A reception with the artists will be held in the gallery Friday, Nov. 5 at 11:30 a.m., during which two additional works, based on the theme "Women of Faith," will be dedicated in memory of Kim Loontjer BS '03. The exhibit is free and open to the public now through Dec. 18.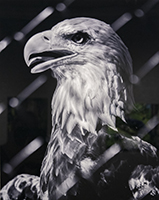 Anastasiya Camp presents a wildlife photography series in the form of metal prints. Animals have been her passion since childhood, and she depicts them living their daily lives. This collection was put together as Camp reflected on the silver linings of the past year and how the COVID-19 lockdown gave her time to recharge, restart and admire all of God's creatures. An award-winning artist as a student, Camp hopes these photographs of wildlife will inspire viewers and remind them to look for the light amid the dark through nature.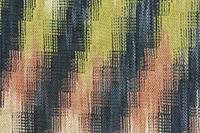 Sara Nordling's primary expression is seen in woven textiles. Nordling is fascinated by the multitudes of disparate threads that get organized into a unified cloth, which, even when it appears simple, is complex. She finds joy in pushing the limitations of the loom in her weavings with double-weave cloth—cloth that is woven with more than one layer. At times these layers are distinct, and at others they are so integrated that careful scrutiny is required to distinguish the layers. Using this technique, she is able to achieve areas of color and combinations of color and design that one cannot achieve in any other way.
In addition to presenting their series, both artists were commissioned to create special "Women of Faith" works of art in memory of CUC alumna Kim Loontjer BS '03, donated to the University by her parents. At the Nov. 5 reception, the two works will be dedicated as part of the University's permanent art collection, curated by Professor Nikkole Huss. Loontjer faithfully contributed to CUC as an Alumni Advisory Council member, adjunct professor of political science and member of the University Band. She was a professor of political science at Concordia University Wisconsin at the time of her death in 2019.
The Ferguson Art Gallery is located in Kretzmann Hall at Concordia University Chicago, 7400 Augusta St., River Forest, IL. Gallery hours are Monday through Friday 9 a.m. to 7 p.m., and Saturday and Sunday 10 a.m. to 6 p.m. Face coverings are required for all individuals indoors.
For further information about the commissioned artworks, contact Professor Nikkole Huss, curator of the University's art collection, at Nikkole.Huss@CUChicago.edu. For more information about the gallery, contact Professor BettyAnn Mocek, gallery director, at Bettyann.Mocek@CUChicago.edu, visit CUChicago.edu/ferguson or call 708-209-3013.
---