The College of Theology, Arts & Humanities at Concordia-Chicago is proud to welcome Dr. Gary Saul Morson on Oct. 27 at 7:30 p.m., as the inaugural speaker for the Lectureship in Christianity, Humanities and Public Life.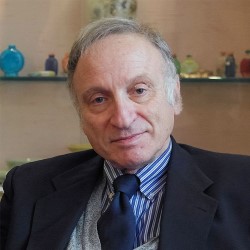 Dr. Morson's talk, entitled "Do Absolute Values Exist? A Russian Question," examines several outcomes of the intellectual inclination toward materialism and atheism, which the Soviet Union used as the basis for actual policy.
As the Lawrence B. Dumas professor of the arts and humanities, distinguished professor at Northwestern University, and an American literary critic and Slavist, Dr. Morson is widely known for his scholarly work on the Russian novelists Tolstoy and Dostoevsky. His academic work spans a variety of disciplines: literature; the history of ideas, both Russian and European; and his favorite writers, Chekhov, Gogol, Dostoevsky and Tolstoy. He is particularly interested in the relation of literature to philosophy.
The presentation will provide a unique opportunity for Dr. Morson to address questions including: If people are nothing but material objects, why should human life be respected? If ethical systems have no higher warrant, what, if anything, could restrain those with power? If one adopts thoroughgoing utilitarianism—what matters is only the result—how does that affect the behavior of those really brought up to believe it?
Established in the fall of 2021, the Lectureship in Christianity, Humanities and Public Life is a biannual series designed to explore the intersection of and tensions within the humanities, science and the Christian faith. It is generously funded by Dr. and Mrs. C. Ross Betts.
The free event will take place in the Chapel of Our Lord on Concordia-Chicago's campus, located at 7400 Augusta St., River Forest, IL. The event will also be livestreamed at CUChicago.edu/live.
Free off-street parking is available in the University's parking structure, south of Division Street on Bonnie Brae Place. Handicapped-accessible parking is available in the visitors' lot adjacent to the north side of the University parking structure. Per the state of Illinois, face masks are required for all individuals in attendance.
---