Concordia University Chicago has been recognized for its commitment to engaged, hands-on education by Colleges of Distinction for the 2021-2022 year, in five areas: College of Distinction, Illinois College of Distinction, Christian College of Distinction, College of Distinction–Business and College of Distinction–Education.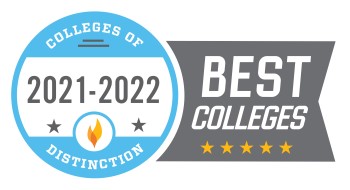 Colleges of Distinction is a guide for college-bound students that advocates for schools whose undergraduate experiences are grounded in a philosophy of well-rounded, individualized engagement. The guide was created to draw more attention to schools like Concordia University Chicago, whose student-centered education prevails in applying theory to practice while fostering a dynamic learning community.
"We are thrilled to be championed as a College of Distinction, once again, for our effective dedication to student success," says Jeff Hynes, senior vice president for university advancement at Concordia-Chicago. "The University's recognition is a testament to the value we provide to students through our commitment to a Christ-centered education in the Lutheran tradition."
"Every student has their own unique set of abilities, their own goals and their own ideal settings in which they would thrive," says Colleges of Distinction founder Wes Creel. "That's why we don't rank our schools. It's about finding the best opportunities for each individual's needs and desires." Concordia-Chicago's inclusion is informed by the unique ways it commits to achieving success.
For the fourth time, the University received specialized recognition for its business and education programs. These additional accolades were born of a need for college curricula that are comprehensive not only in course material, but also in practical- and soft-skills development. Concordia-Chicago has met these needs with a blend of liberal arts education, program-specific training and abundant opportunities for real-world application.
To view Concordia-Chicago's profile or to find more information about the innovative learning experiences offered by the University, visit CollegesofDistinction.com.
---