Each year, the Lutheran Education Association (LEA) Awards honor outstanding teachers who are active in the Lutheran community and who are committed to meeting the social, emotional, spiritual and cognitive needs of children, youth, adults and families. In what has become something of a tradition for Concordia-Chicago graduates, three of the University's alumni are among the honorees of the 2021 LEA Awards.
Mark Brink BA '75 received the LEA's top honor, the Christus Magister award, which has been presented since 1965 to individuals who have made significant contributions to Lutheran education. Brink is the Executive Director for School and Youth Ministries for the Florida-Georgia District of the LCMS. He previously served as a teacher and principal in Lutheran schools in Illinois, Florida and Georgia. Brink has also served in a variety of capacities working with youth, older adults, athletics, Sunday school, social ministry and family ministry.
When asked about his greatest joys in ministry, Mark said, "Working with a great team and celebrating their accomplishments with them is awesome. God has blessed the Church with so much incredible talent to accomplish His mission, and I love giving people the opportunity to use theirs to His glory and for the benefit of people He places in their path." Mark's personal mission statement is "Partnering with God's people to be and do."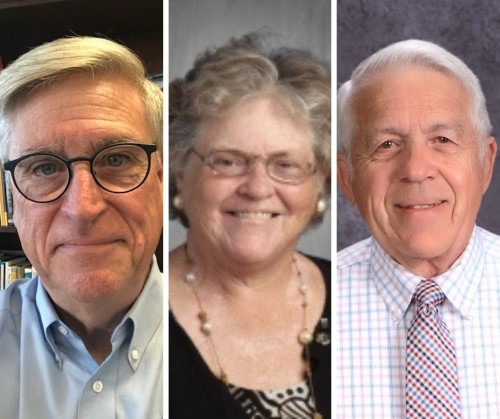 Ruth Wiedenmann BA '76, a fourth-grade teacher at St. Luke's Lutheran School in Oviedo, FL, was named Distinguished Lutheran Elementary Teacher. She also directs the hand bell ministry of the church and school and serves as an organist and developer of the school's Advent services. Wiedenmann has also served in several other positions at St. Luke's as well as at Lutheran schools in Texas and Illinois. Said Wiedenmann, "Some of my greatest joys in working with students come from watching the Lord develop their servant hearts and love for others."
Kenneth Palmreuter BS '62, a 56-year veteran of Lutheran education from Rapid City, SD, was named Distinguished Retired Lutheran Educator. He officially retired in 2002, having most recently served as executive director/principal for the Colorado Lutheran High School Association. Since that time, he has continued to serve in a variety of ways, including on the Board of Lay Ministry; as the consultant for Zion's NLSA Accreditation; on the Board of Education for the Black Hills Lutheran Schools; and as administrator of Bethesda Lutheran School in Hot Springs, SD during a time of vacancy and transition the school's ministry.
---