Concordia University Chicago set a new giving record during CUCelebrates, its fifth Annual Day of Giving, Tuesday, March 2. More than $145,500 was shared during CUCelebrates 2021 by over 300 generous donors. The signature event is hosted each spring by CUC's Foundation to encourage philanthropy and enhance students' Concordia-Chicago experience. Members of the University community continue to share as they are able at CUChicago.edu/CUCelebrates.
This year's theme, "I'm 100% CUC," encouraged individuals to share what they believe makes Concordia-Chicago a unique environment to learn and grow. CUCelebrates showcased these distinctions during a live broadcast streamed through the University's website and social media channels. Each segment featured students, faculty, staff and guests sharing how gifts impact the University. Notable moments included a surprise $10,000 gift toward completion of the choir room renovation, and a retelling of "The Parable of the Good Samaritan," from Luke 10 by students of CUC's Early Childhood Education Center.
"We are encouraged and humbled by this record-breaking day of giving," said President Dr. Russell Dawn. "With the impact of the pandemic over the last year, we are immensely thankful for the tremendous generosity of our alumni and friends who have stepped up to help. Concordia University Chicago is resilient and positioned to thrive, especially as we look forward to the wonderful learning experiences to come with a return to in-person learning in the fall."
CUCelebrates provides for "what's needed most" at the University through the Pillars Fund and impacts specific areas through 12 CUCelebrates Challenges, benefitting students by:
Ensuring COVID-19 safety through regular on-campus testing
Providing Gard Student Assistance Fund emergency grants
Alleviating food insecurity through the Pillars Pantry
Enhancing the Cougars' student-athlete experience
Showcasing student artists and musicians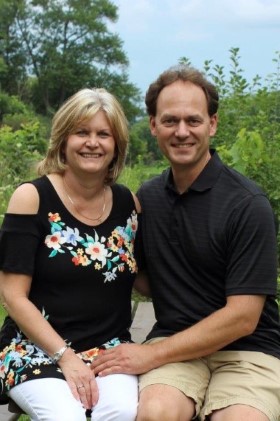 Matching gifts were shared by generous alumni and friends for each Challenge, which doubled gifts dollar-for-dollar. Dr. Shirley (Kloha) Morgenthaler BS '59, distinguished professor emerita of education and founder of CUC's Early Childhood Education Center, along with current director Cathy (Hipple) Gruenwald BA '88, MA '98 and husband Paul BA '88, made matching gifts to celebrate the Center's 45th anniversary.
"I'm 100% CUC and proud to serve as the ECEC director. I feel like I have come home," said Cathy Gruenwald. "After serving in many Lutheran schools, it feels good to give back to the place that gave me my start in Lutheran education. Dr. Morgenthaler was my professor, graduate advisor and mentor. I am happy to continue the 45-year tradition of Christ-centered, child-focused, quality education for the children of the ECEC, and I love working with the college students who will take what they learn with us into the world."
There's Still Time to Celebrate! You can grow the University's impact by giving at CUChicago.edu/CUCelebrates or calling the Foundation Office at 866-448-3867. Every gift and every moment focuses our future.
---