Traditionally, when a Director of Christian Education (DCE) is called to a congregation of the LCMS, he or she may be tasked with leading Sunday school, vacation Bible school, adult education, confirmation, youth ministry or other areas, in any combination. Dr. Debbie Arfsten, DCE program director at Concordia-Chicago, says many of today's incoming students want to innovate in ministry, evolving what it means to be a DCE.
"While we train them to be in parish ministry, it's not unusual to have some who want to take it in a new direction. That offers the Church more places where DCEs can serve," she says. "Part of my challenge is to find those students someplace unique for their internship. Today's students now have a broader, more complete picture of the world."
A current intern, Maggie Warner BA '21, says, "I wanted to pursue the DCE program because of the impact that my home church had in my life, and I want to be that resource to all types of families in the Church. It's a perfect fit for me to constantly be surrounded by such faithful people and teaching the most important thing: Jesus!"
Warner is completing her DCE internship, the final requirement before certification, at Immanuel Lutheran Church and School in St. Charles, MO, where Jolene Siebarth BA '96 is DCE – Director of Youth Ministries. Siebarth loves to serve as a DCE because of her own experience with a fulfilling Lutheran education, as well as the joy of working in team ministry—side by side with new DCEs—to share the love of Jesus.
"Lutheran schools prepared me to serve others by providing that solid foundation of education grounded in God's Word and love and care for one's neighbor," Siebarth says. "I can keep up my faith antennae and seek ways to connect, love and serve with compassion to those in the community. This past year has provided so many unique opportunities to do just that."
Warner adds that, although she grew up attending public schools, "my own Lutheran education at CUC taught me that it's possible to look at all different subjects of school through the lens of a Lutheran. Jesus is living in and loving us at all hours of the day, and constant reminders of that are so important!"
At Concordia-Chicago, DCE students are a close-knit community, and retain strong connections with fellow DCE alumni once they graduate. "We tell our students that they're never really done with us," Arfsten says. "When you leave Concordia-Chicago, there's a big DCE community in our church body. We're always looking for ways to get our students connected to where they'll be serving."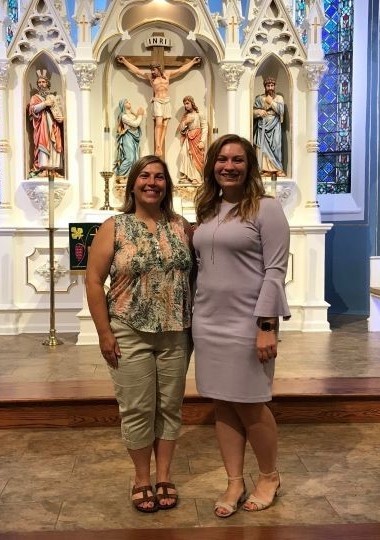 ---