Those who are living out their vocations in school administration have a great responsibility to not only lead their staff and students, but to also shape and uphold Lutheran education's present and future. As part of a series celebrating National Lutheran Schools Week 2021, Concordia-Chicago is checking in with its alumni and friends serving in Lutheran education.
Dr. David Hahn BA '75 is the executive director of the Association of Lutheran Secondary Schools. He and his wife Janet have been blessed with careers serving Lutheran schools for 46 years and counting. "Lutheran schools mean so much to our family! My wife and I plus our three daughters have all benefitted from Lutheran education at pre-K, elementary, secondary and/or university levels," he says. "Lutheran schools provide students with a great foundation for life: top-tier educational programs, caring, Christ-centered communities, inspiring role models and friendships that last well beyond graduation."
Rev. Steven Cholak BA '00, MA '20 reiterates the importance of allowing children to build upon a firm foundation of Jesus Christ. "Lutheran schools put the Lord Jesus front and center in the lives of our children. They show forth the good, true and beautiful to our children as they grow into responsible citizens in an active and changing world. Lutheran schools prepare our little ones for eternity," says Cholak, who is headmaster and associate pastor of Immanuel Lutheran Church & School in Roswell, NM.
"My Lutheran education allowed me to experience learning without separating out God and religion," he adds. "It allowed me to see the Lord's hand in all subjects and discussions."
Chris Steinmann MA '08 is the superintendent and CEO of the Cleveland Lutheran High School Association, which serves both Lutheran West and Lutheran East high schools in the Cleveland, OH area. "Growing up in Lutheran schools provided me with incredible educational opportunities," he says. "Not only did I have top-notch educators throughout my formative years, I was also surrounded with the Gospel at every turn."
Steinmann, a recipient of Concordia-Chicago's Distinguished Alumni Award in 2017, can't overstate the value he sees Lutheran education bringing to the lives of young people in our world. "The match of elite education with intentional discipleship in the Gospel shaped much of who I am today," he adds. "In a culture that needs the Gospel more than ever, and has a real deficit in the area of high-quality academics, our Lutheran schools are more important than they have ever been."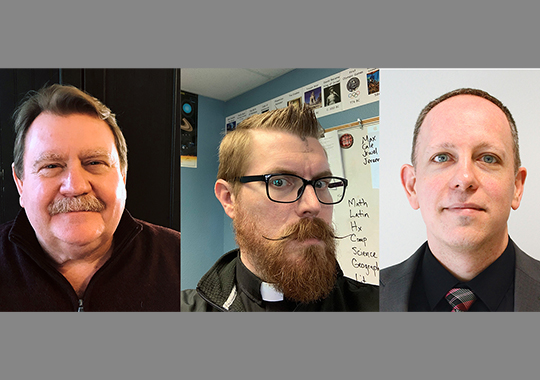 ---