For the fifth time in six years, a team of Concordia University Chicago undergraduate and master's students finished first place among Chicago-area competitors in the IEEEXtreme 24-Hour Programming Competition. Their performance in the annual Institute of Electrical and Electronics Engineers (IEEE) contest also awarded them third in the United States and 73rd in the world—an improvement of 57 places over last year—out of 4,557 teams.
Every year since 2013, CUC student teams have been climbing the rankings in this competition, a global challenge in which college students at all levels compete in a 24-hour period to solve a set of programming problems. While the competition is always virtual, a socially distanced semester made for additional challenges for the Concordia-Chicago teams. "We trained online and I focused on ensuring there was little difference between online and face-to-face instruction in the way we learned the concepts," says faculty mentor Dr. Victor Govindaswamy, associate professor of computer science.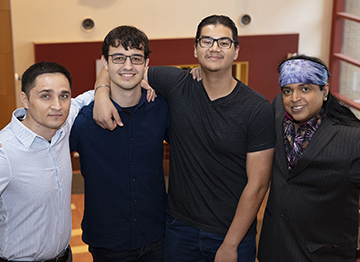 The team was made up of CUC students Iskandar Sobirov, Collin Pearce and Marcos Duran. The team members each have one to three years of programming experience and were in competition against many students with up to 10 years of experience.
"The students were more determined than ever to bring joy to the community and the University during these tough times," says Govindaswamy. "It was pure hard work and determination that cemented our success this year."
He attributes the team's continued ascent in the competition to a combination of teaching methods and confidence in the related degree program. "Our computer science program is unique in the sense that it is very applied from the beginning," he says. "Belief in the program is also essential in doing well in it. Our students are building up a reputation based on the successes of our computer science program over the years. We are building a tradition of winning."
The Chicago Section of IEEE has been supporting Chicago's engineers since 1893. IEEE is the world's largest association of technical professionals, with more than 400,000 members worldwide.
Concordia University Chicago offers a Bachelor of Arts in computer information systems, a Bachelor of Arts and Bachelor of Science in computer science, and a Master of Science in computer science.
---