In line with the College of Business' mission of "prepar[ing] students [to] positively impact the global society" Dr. Claudia Santin, dean of Concordia-Chicago's College of Business, recently announced an exciting new partnership with the Berlin School of Business and Innovation (BSBI). The College has launched two complete degree programs taught at the BSBI campus in Germany: the Master of Arts in Innovation and Entrepreneurship (MAIE) and the MBA, including specializations in digital marketing, finance, health care management and project management.
The MBA and MAIE curriculums, with their focus on global business principles, are a perfect fit for Berlin, which is quickly becoming Europe's new business startup hub. BSBI is in the heart of Berlin, a prime location for business studies with a rich multicultural environment.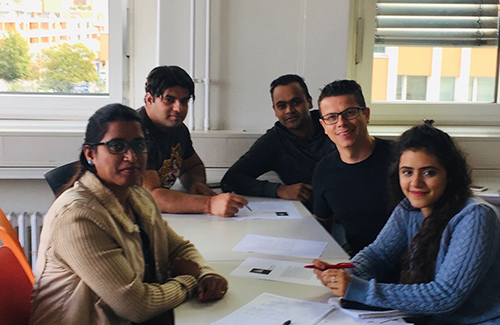 Professor Elisabeth Dellegrazie, chair of the College's international academic programs says, "By offering our programs in Berlin, CUC provides business students with an incredible opportunity to gain international expertise and discover a new culture while earning a highly-respected U.S. degree." Students who enroll in either one of the programs will have access to all services provided by both schools, including career and student support, free German lessons and a free five-day executive education course.
After delays due to COVID-19 travel restrictions, both programs officially launched this October with 23 students in the initial cohort. Students in the program come from a wide variety of countries in Africa, Europe, Asia and Latin America.
The University's MBA program recently received accreditation from the Accreditation Council for Business Schools and Programs (ACBSP). The ACBSP evaluates aspects of leadership, strategic planning, relationships with stakeholders, quality of academic programs, faculty credentials and educational support to ensure business programs offer a rigorous educational experience and demonstrate continuous quality improvement.
---