In a time of great uncertainty for universities nationwide due to the COVID-19 pandemic, Concordia University Chicago is celebrating the institution's largest-ever enrollment in its 156-year history. This year's fall enrollment totals 6,490 students, a growth of 5% over last year. This also marks the 11th consecutive year of combined undergraduate and graduate enrollment exceeding 5,000 students and the third year over 6,000.
"It goes without saying that achieving this type of increase in normal times is a challenge, let alone during the turmoil that we've faced together in 2020," said Dr. Russell Dawn, president of Concordia University Chicago. "We give thanks to God for CUC's continued success, and for the dedication of each and every faculty and staff member. Our faculty responded to the challenge of transitioning courses from an in-person to an online format almost overnight, and we still saw enrollment rise significantly. We couldn't be more proud."
Concordia-Chicago's enrollment for 2020 includes 4,953 graduate students—its largest number ever. In addition, the University's accelerated degree program (ADP), a pathway for non-traditional undergraduates to earn their degrees, grew to a record 287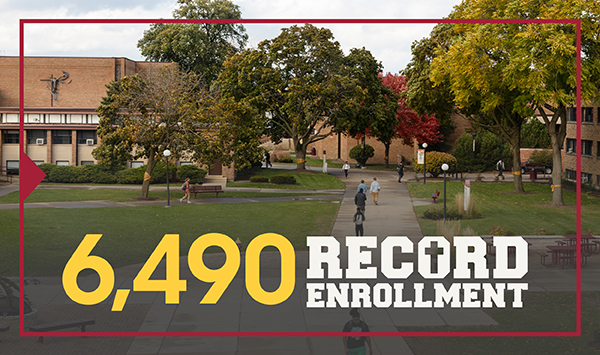 students. The University is offering all fall 2020 classes in a 100% online format due to the pandemic.
"Reaching this milestone is remarkable, given the pandemic and the months of remote work by the entire University community," said Jeff Hynes, senior vice president for advancement at Concordia-Chicago. "Students have made the decision to get an education at an institution that is the college of choice for so many due to its strong academic programs. The University's dedication to delivering an exceptional, Christ-focused student experience is unwavering, even in these unprecedented times."
The University exceeded another important goal, achieving a fall retention rate that was 6.7% higher than expected. "The exceptional flexibility and innovative thinking of our faculty and staff helped us realize this amazing retention rate. We were able to achieve this in light of the many barriers placed before both our traditional undergraduate students and the University itself," said Hynes.
"Our students' collective return to campus is based on the strong working relationships our University community has built with them, whether as academic advisors, faculty mentors or in other important support roles," Dawn added. "We look forward to building on this fall's excellent results, achieving future growth and pushing beyond our current success."
---