A team of Concordia University Chicago undergraduate students have come in first place in the Chicago IEEEXtreme 24-Hour Programming Competition, for the fourth time in five years. Their performance in the annual Institute of Electrical and Electronics Engineers (IEEE) contest placed them 10th in the United States and 140th in the world—in the top 3 percent—out of 5,015 teams. Student teams from CUC captured the top three places among competitors from universities in and around Chicago.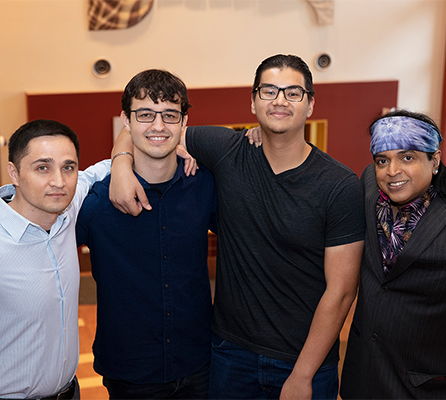 The competition is a global challenge where students in undergraduate, master's and doctoral-level programs compete together in a 24-hour period to solve a set of programming problems. The first-place Chicago team was made up of CUC undergraduate students Iskandar Sobirov (captain), Collin Pearce and Marcos Duran. The team members each have one to two years of programming experience and were in competition against many students with up to nine years of experience.
The group was encouraged to participate in the competition and trained by faculty mentor Dr. Victor Govindaswamy, associate professor of computer science at Concordia-Chicago. "The competitors were given 26 long and tough questions at regular intervals over a period of 24 hours," said Govindaswamy. "I am thrilled with the improvement, hoping that we will keep on climbing the rankings."
The Chicago Section of IEEE has been supporting Chicago's engineers since 1893. IEEE is the world's largest association of technical professionals, with more than 400,000 members worldwide.
Concordia University Chicago offers a Bachelor of Arts in Computer Information Systems, a Bachelor of Arts and Bachelor of Science in Computer Science, and a Master of Science in Computer Science.
---