An Innovative Doctorate in Business Administration
---
Application Deadlines
Jan, 03
Domestic Students
Spring 2024 Application Due | Classes start Jan. 8, 2024
Nov, 08
International Students
Spring 2024 Completed File Due | Classes start Jan. 8, 2024
---
The Doctorate in Business Administration (DBA) is designed to meet the demand for doctoral business education that is the next step in individual professional development. The program, one of the top DBA programs in Chicago, provides a further tier of leadership and management preparation beyond the master's level. The DBA creates an opportunity for students and faculty to further cultivate the global perspectives, knowledge, and networks already established through the College's expanding global presence. The curriculum, residencies, specializations, and the Mentor interface are innovative by design and delivery. A unique feature of Concordia-Chicago's DBA program is that the dissertation process begins immediately with students choosing a preliminary topic at the beginning of their program of study.
The Concordia-Chicago Doctorate in Business Administration has been designed for professionals who seek professional enrichment and want to focus on real-life business challenges while developing application-oriented research. Seasoned business professionals know that they must blend research with their management practice. They must know how to assess current global trends in business, leadership, and management that affect their organizations. The DBA program is committed to scholarly business research, and qualified candidates will have research interests that align with one of the two specializations offered. Those who earn a DBA degree will be prepared to advance in their profession and to use their research expertise to positively impact organizational goals.
Two DBA specializations are offered, Innovation in Health Care Management and Strategic Leadership and Innovation. Please view the curriculum below for program and specialization information.
Program Outcomes
The program prepares graduates to:
Critically examine the literature of business, leadership, and applied research
Undertake independent, ethical, innovative, and rigorous business research
Synthesize global trends, business knowledge, and leadership theory to advance both theory and practice
Design and implement innovative business solutions
Evaluate the efficacy of business principles to effect change in global environments
What is a DBA and how does it differ from a PhD?
A DBA is a professional doctorate with a focus on theoretical knowledge and its application to business practice. While also intended to prepare graduates for academic careers, the DBA has more practical application in managerial settings than the PhD.
A PhD is a research degree for candidates who would like to pursue a traditional academic career and conduct research that contributes to business knowledge or theory.
The DBA and PhD are academically equivalent. Concordia-Chicago graduates holding a DBA degree are prepared to work in executive and leadership positions within organizations, as consultants, or in scholarly pursuits at universities and colleges.
---
Program Information
DBA program outcomes are aligned with the College of Business' Pillars of Knowledge:
Ethics and Social Responsibility
Critical Thinking and Entrepreneurial Mindset
Communication and Human Relations
Global Interconnectedness and Inclusiveness
Core: 17 credits
Foundations of the Doctoral Experience
This course orients and provides students with the foundational tools they will need for success in writing course assignments, literature reviews, and the dissertation. APA style, scholarly writing, academic integrity, library literacy skills, and writing for an academic audience will be reviewed. (2 credits)
The Global Leader: Social Responsibility and Ethical Decision Making
A critical examination of the creative tension among the three principal components of organizational performance: leadership, social responsibility, and ethical decision making. This course examines the leader as the principal driving force of global performance, the role of sustainable social responsibility in the global world and the intricacies of ethical decision making in diverse cultures.
Global Concepts in Strategic Marketing
This course examines the marketing function from a global perspective. It focuses on the managerial application of marketing tools and methodology across multiple cultures and emphasizes marketing decisions associated with allocating organizational resources. The course will assess and analyze strategic product development and design, pricing, promotional strategies, and distribution in a global environment.
Strategy Formulation, Deployment, and Innovation: A Global Perspective
This course reviews the key elements of strategy formulation, deployment, and innovation in a global environment. Considered are the applications of strategic management in the formulation of global strategy, the unique elements of strategy deployment in a global environment and the process of using formulation and deployment in creating innovative global strategies
Business Analytics and Financial Decision Making
This course provides experience and application in predictive analysis and advanced data analytics to discover new business trends. It provides for powerful new visualization that empowers the use of big data in reaching financial decisions that support effective global planning strategies for identifying and taking advantage of new global market opportunities.
Global Business Operations
This course provides the tools and knowledge to enable business managers and leaders to synchronize and optimize value from existing physical or intangible resources. Such knowledge facilitates prudent decision making and obtaining value from organizational assets, including supply-chain management that can create optimal performance.
DBA Mentor Course Rooms: 15 credits
The ten DBA Mentor course rooms run concurrently with core, research, and specialization courses. The Mentor course room begins the student's introduction to the dissertation process starting in the second term of the student's program. Each Mentor course room has a specific deliverable that coincides with one of the elements of the dissertation.
Residencies: 3 credits
DBA Residency Experience 1
The residency occurs during the first term of a student's enrollment in the DBA program. It provides students the opportunity to meet professors and peers, as well as build a community that they can access throughout their program and beyond. Residencies provide a rich learning experience. Some of the competencies students will develop in Residency I include an introduction to the DBA research and dissertation process focusing on problem identification. Students will self-assess their leadership, time management, and research skills. Students will establish a Comprehensive Professional Portfolio in which to record their significant achievements in the program.
DBA Residency Experience 2
Students who have approved prospectuses will emerge with a plan for writing chapters 1-3 of the proposal. Pre- and post-work encompasses the term.
DBA Residency Experience 3
This course is taken after the proposal is written, with the goal of preparing students to collect data and write chapters 4-5 of the dissertation.
Research Methods: 10 credits
Research Design
Emphasis on how to design doctoral-level, business research. Principles of research theory, methods, inquiry, problem formulation, data collection, literature searches, and ethical considerations. Emphasis on how to design a doctoral-level research study. (4 credits)
Quantitative Research and Advanced Statistics
This course provides an understanding of the unique advantages of quantitative research in research and business and uses statistical software to explore, analyze, and apply descriptive and inferential statistics through both non-parametric and parametric techniques.
Qualitative Research
An examination and application of qualitative research approaches with a focus on research design, the role of the researcher, data collection and analysis, and writing from a qualitative perspective.
Specializations: 9 credits
INNOVATION IN HEALTH CARE MANAGEMENT
Innovative Best Practices in Health Care Management
This course is a survey of best practices in health care management and focuses on those determined to be innovative through recognition from Malcolm Baldridge Awards, Magnet Certification, and the Center of Excellence Designation. Innovation is reviewed and methods and techniques that stimulate, develop, and foster innovative practices are examined.
Health Care Analytics and Financial Applications for Health Care Management
This course examines the application of health care analytics and models to increase health care performance by the health care facility or system with emphasis on revenue cycle management and supply chain management using mobile technologies and other advanced techniques. It uses analytics in examining financial management, patient care innovations that improve financial performance while improving quality and mitigating risk.
Governance of Health Care Systems
This course reviews health care system governance from the perspective of strategic policy formulation and execution, the governing body, ensuring the establishment of internal controls to ensure the integrity of the system, methods for accountability and transparent reporting to health care system stakeholders. It reviews innovative practices in health care system governance using information technology to leverage and ensure that the organization is proactive and compliant to regulations, accreditation standards as it meets the needs of the patient population it serves.
STRATEGIC LEADERSHIP AND INNOVATION
Strategic Leadership Thought
This course provides a compendium of leadership on how one leads in today's global, interconnected world. This goal is achieved through two reciprocal actions: leadership thought and thought leadership. Leadership thought provides a historical framework of leadership thought and the conditions under which it appears to effective. Thought leadership is a unique, informed, useful and relevant perspective that derives from strategic leadership thought. It starts at the top, is integrated throughout the organization, and becomes an integral part of the brand.
Strategic Leadership Practice
This course surveys the universe of leadership practice and allows the student to assess and determine the optimal leadership practice for their situation. It provides a collateral seven-point principle framework that covers care, communication, consciousness, contrasts, context, change, and capability in better understanding the contemporary issue of leadership practice.
Disruptive Innovation Execution
This course builds on a synthesis of leadership thought and practice and examines them in the context of innovation and its execution. Innovation execution begins with Strategic Leadership Thought and Practice and translates them into actionable knowledge. The course builds upon the course, Strategy Formulation, Deployment, and Innovation: A Global Perspective. Students will learn how to create a flexible yet disciplined innovation process to support strategic leadership thought and strategic leadership practice.
Comprehensive Professional Portfolio: 0 credit
To document and assess academic progress, students will prepare and present their Comprehensive Professional Portfolio (CPP) prior to defending their dissertation proposal in the final Mentor course room. The CPP is a systematic reflection and documentation of the student's experience in the DBA program. Students complete a complex assignment within each Mentor course room that provides a basis for evaluating the degree of mastery of all learning outcomes for that course. This experience provides students with the opportunity to demonstrate their command of the knowledge, skills, and expertise necessary for conducting research within their area of focus. The student will present their CPP either virtually or in person to their dissertation committee prior to defending their dissertation proposal.
Dissertation: 6 credits
DBA Dissertation Intensive #1
DBA Dissertation Intensive #2
DBA Continuing Services
---
Credits

Total

Semester 1

1st (8 weeks)

DBA

7010

Foundations of the Doctoral Experience

2

6

DBA

7000

The DBA Residency Experience 1

1

2nd (8 weeks)

DBA

7020

The Global Leader:
Social Responsibility and Ethical Decision Making

3

Semester 2

1st (8 weeks)

RES

7901

Research Design

4

6

DBA

7404

Accompanying Mentor Courseroom 1

1

2nd (8 weeks)

DBA

7405

Accompanying Mentor Courseroom 2

1

Semester 3

1st (8 weeks)

DBA

7401

Mentor Courseroom 1

3

7

2nd (8 weeks)

Specialization Course #1

3

DBA

7406

Accompanying Mentor Courseroom 3

1

Semester 4

1st (8 weeks)

RES

7605

Quantitative Research

3

8

DBA

7200

The DBA Residency Experience 2

1

2nd(8 weeks)

RES

7700

Qualitative Research

3

DBA

7407

Accompanying Mentor Courseroom 4

1

Semester 5

1st (8 weeks)

DBA

7030

Strategy Formulation, Deployment & Innovation:
A Global Perspective

3

6

2nd(8 weeks)

DBA

7040

Global Business Operations

3

Semester 6

1st (8 weeks)

DBA

7402

Mentor Courseroom 2

3

7

2nd (8 weeks)

Specialization Course #2

3

DBA

7408

Accompanying Mentor Courseroom 5

1

Semester 7

1st (8 weeks)

DBA

7050

Business Analytics & Financial Decision Making

3

7

DBA

7300

The DBA Residency Experience 3

1

2nd (8 weeks)

DBA

7403

Mentor Courseroom 3

3

Semester 8

1st (8 weeks)

DBA

7060

Global Concepts in Strategic Marketing

3

7

2nd (8 weeks)

Specialization Course #3

3

DBA

7409

Accompanying Mentor Courseroom 6

1

Semester 9

1st (8 weeks)

DBA

8000

Dissertation 1

3

6

2nd (8 weeks)

DBA

8010

Dissertation 2

3
Core courses and specializations courses capture the knowledge needed for the business profession
Three residency courses provide sustained participation with peers and faculty members in scholarly/creative activities
Acquisition of skills of inquiry, development of research techniques, and the incorporation of professional values
Mentors who work with students through their program of study
eBooks and eResources are used to contain costs
Coursework and activities are integrated, ensuring all student effort is complementary
Dissertation discussion begins in the first term
The program is designed for three-year completion. Students requiring more time register for continuing services. The three-year delivery model mirrors the business environment and is managed by the student as a business enterprise
Students do not wait until course work is finished to focus on their dissertation
Note: travel and accommodations are not included in tuition
At Concordia-Chicago, doctorate of business administration students are matched with a mentor in the second term of their program of study. Mentors are selected for their business and research knowledge and their strong interpersonal skills. The relationship between the mentor and the student builds quality into the dissertation in a step-by-step, measurable way, preparing the student to begin collecting data, and writing chapters 4 and 5 of the dissertation supporting the completion of the dissertation by the end of year 3.
"The heart of the CUC DBA is the one-to-one mentoring course room experience. 'To innovate is not to reform: It is introducing useful change' (Adair, 2011, p. 412). The CUC DBA mentoring experience is an innovation in doctoral education. Concordia's DBA dissertation mentoring experience starts as a continuous support to you as your mentor helps you orchestrate the dissertation journey. 'We Can Do This Together,' is the winning mantra."

Charlene Dunfee, DM, PhD
DBA Core Faculty
The Concordia-Chicago DBA program integrates three residencies at pivotal points of the program. Whether students are taking courses face-to-face or online, everyone attends residencies to enable personal support of program requirement achievement and ensure on-time graduation. Residences provide a rich blended-learning experience. Pre-and post-work encompasses an entire 8-week term.
The market is robust for holders of the doctorate in business administration. Generally, MBA programs and other business-related master's programs link to a DBA as a logical next step in business professionalization. As business requirements become more demanding and specialized, the demand for advanced business and leadership training, such as in the DBA, will increase. According to learn.org, graduates holding a doctor of business administration degree are prepared to work in executive positions, such as CEOs, within organizations or in scholarly pursuits at universities and colleges. Chief executives, according to the U.S. Bureau of Labor Statistics, earn high six-figure salaries or more, and professors with business doctorates tend to earn high wages from consulting, in addition to teaching and conducting research.
Admission to the Doctorate in Business Administration (DBA) occurs prior to initiation of course work. The number of students admitted will be limited to ensure quality of program and dissertation advising.
Applicants who are successful in their application for admission for entrance into the DBA program will meet the following criteria:
Master's degree from a regionally accredited institution with a minimum cumulative 3.0 GPA*
A completed Doctoral Application for Admission
Submission of rationale statement. Capture your goals and ambition for pursuing the Doctorate in Business Administration in approximately 2-3 pages, double-spaced, using proper grammar, professional writing style, and correct paragraph composition, This is not your resume; it is an opportunity for you to present who you are, and how your academic and professional background has prepared you to pursue the DBA.

Your rationale statement:

Provides a coherent argument for pursuing doctoral study of business management.
Demonstrates the ability to frame one's own ideas and those of scholars in the field into a logical and persuasive presentation as to why this degree fits with their professional career goals.
Speaks to how their academic background has informed their interest in pursuing doctoral research in business.
Demonstrates a thoughtful and intentional purpose for pursuing a DBA. Why is this the right degree for you?
Shows his or her ability to write professionally and use citations and references, demonstrating his or her knowledge in identifying and using evidence to support one's thinking and ideas.

Transcripts: Submission of official transcripts of all degrees conferred.
2 Letters of recommendation from individuals who can attest to the applicant's potential for success in a doctorate program:

1 professional recommendation
1 academic recommendation

Past experience: 5 years of professional experience is recommended.
Resume
*Exceptions to the 3.0 master's GPA may petition the dean of the College of Business for admission; additional admission criteria may be required.
Note: Students will need to maintain a 3.0 GPA while in the program.
All documents should be submitted to:
Office of Graduate Admission and Student Services
Concordia University Chicago
7400 Augusta Street
River Forest, IL 60305
The office fax number is 708-209-3454.
Admission recommendations are submitted from the admission committee to the Dean of the College of Business, who will then make the final admission decision and communicate the decision to the candidate. The admission committee may establish an admission waiting list, if necessary.
Students who are applying for admission to the doctoral program are precluded from enrolling in any courses that meet doctoral program requirements until the student has been completely admitted to the program.
Each DBA student will be required to assess their potential for success in specific business courses. If the pre test (administered through Peregrine Academic Services) indicates that you require additional support, you will take a leveling course in the specific content area through Peregrine to help you develop the foundational business knowledge so you will be more successful in the doctorate degree in business administration. You may take the pretest any time between receiving your acceptance into the program and during the first term of course work. You will receive information regarding Peregrine and how to take the pre test after you are admitted. This is not an admissions test, and does not impact your admission status.
The Graduate Admission Committee reserves the right to request additional information or documentation deemed helpful in evaluating applicants for admission.
Pending Status
Doctoral and international students are not eligible for Pending Status.
International Students
Applicants who are not U.S. citizens are required to meet all admission standards listed for the program they wish to enter. In addition, the following are required to be considered for admission:
TOEFL: A score of at least 60 (internet) minimum requirement on the Test of English as a Foreign Language (TOEFL), or successful completion of Level 112 at an English Language School (ELS) unless English is the native language, and an unqualified recommendation from an ELS program director is provided. (International students who have earned an advanced degree from an accredited institution in the United States do not need to submit TOEFL scores.)
Transcripts: Transcripts from each college/university attended showing all college/university course work with certified English translations of all transcripts originally prepared in any other language. Also, any international transcripts must be evaluated by a Concordia-approved international credentialing service such as WES (World Education Services), ECE (Educational Credential Evaluators), or AACRAO (American Association of Collegiate Registrars and Admission Officers).
Financial Support: A certified document guaranteeing adequate financial support for at least the student's first year of study and, barring any unforeseen circumstances, adequate funding from the same or an equally dependable source, for subsequent years.
Medical: A physical exam, adequate medical insurance, and proof of immunization are required prior to enrollment.
Regular Admission Requirements: International students must qualify for regular admission to a degree program in order to enroll.
All documents must be received by the Office of Graduate Admission and Student Services at least three months prior to the expected date of entry. I-20 forms may be issued only after University acceptance is granted and will remain in effect only for students who continue to make satisfactory progress as full-time students in an accepted university program. The program length of the doctoral program may vary for each student.
Seminar in Higher Education (EDU 6015)
In addition to the base program curriculum, international students attending face-to-face classes on the CUC campus are required to take the Seminar in Higher Education, a 3-credit course.
Course Description
This course will serve as an introduction to the U.S.-based higher education learning environment. Students will work to understand Concordia University Chicago's academic conventions, technological systems and communication culture while developing English grammar, reading, writing, speaking and listening skills.
The Seminar in Higher Education is an excellent opportunity for students to further develop critical skills to help them to be successful in their academic program. This 3-credit course is mandatory for international students attending face-to-face classes on the CUC campus.
Course Objectives
Developing knowledge about local and academic culture
Building grammar, reading, writing, speaking and listening skills
Conducting graduate-level research with the use of electronic and library resources
Developing note-taking strategies for coursework
Reflecting on the U.S.-based education system
Academic support for work in students' current coursework will also be provided during or after class. Guest speakers include representatives from the campus library, writing center and technology services.
Student feedback for the Seminar in Higher Education
After taking the Seminar, I have the ability to perform more professionally in my assignments.

The instructor was very dynamic and a good listener. He gave feedback and made sure all the students understood.

The hands-on activities after the lessons helped my learning experience.

The professor truly cares for the students. He helps students individually and encourages us to support our peers.
The doctorate in business administration is a terminal, professional degree within the broad-reaching fields of business, social enterprise, and public sector management. Holders of the DBA frequently work in executive leadership capacities in a variety of industries and organizations and in academe. While many executive leaders may hold graduate business degrees, increasing complexity, new knowledge, and turbulence within the business environment requires an advanced level of knowledge, skill, and ability.
The Concordia University Chicago DBA focuses on practice, contributing to extending the theoretical base of the particular practice and extending the use of business knowledge through application. The CUC DBA integrates academic and dissertation preparation through a tightly monitored schedule concurrent with course work, rather than in a linear fashion in which students take courses first and then write their dissertation.
"Keeping up with your profession, or, as a business expert aptly put it, 'to always be fit for future action,' is a key responsibility of any business professional. The Concordia-Chicago DBA provides a pathway that empowers business professionals to proactively keep pace with their fast-changing professions. The Concordia-Chicago DBA focuses on three vital areas (a) leading for innovation, (b) honing the student's capacity to conduct research, generate, and apply analytics, and (c) sharpening the student's ability to think critically and communicate effectively. These essential skills transcend skills acquired at the master's level, and enable the professional to adapt to a continuously changing world. Students will earn not only a DBA, but a Concordia-Chicago DBA."

Dr. Claudia Santin
Dean, College of Business
---
Admission Counselor
Connect with your admission counselor.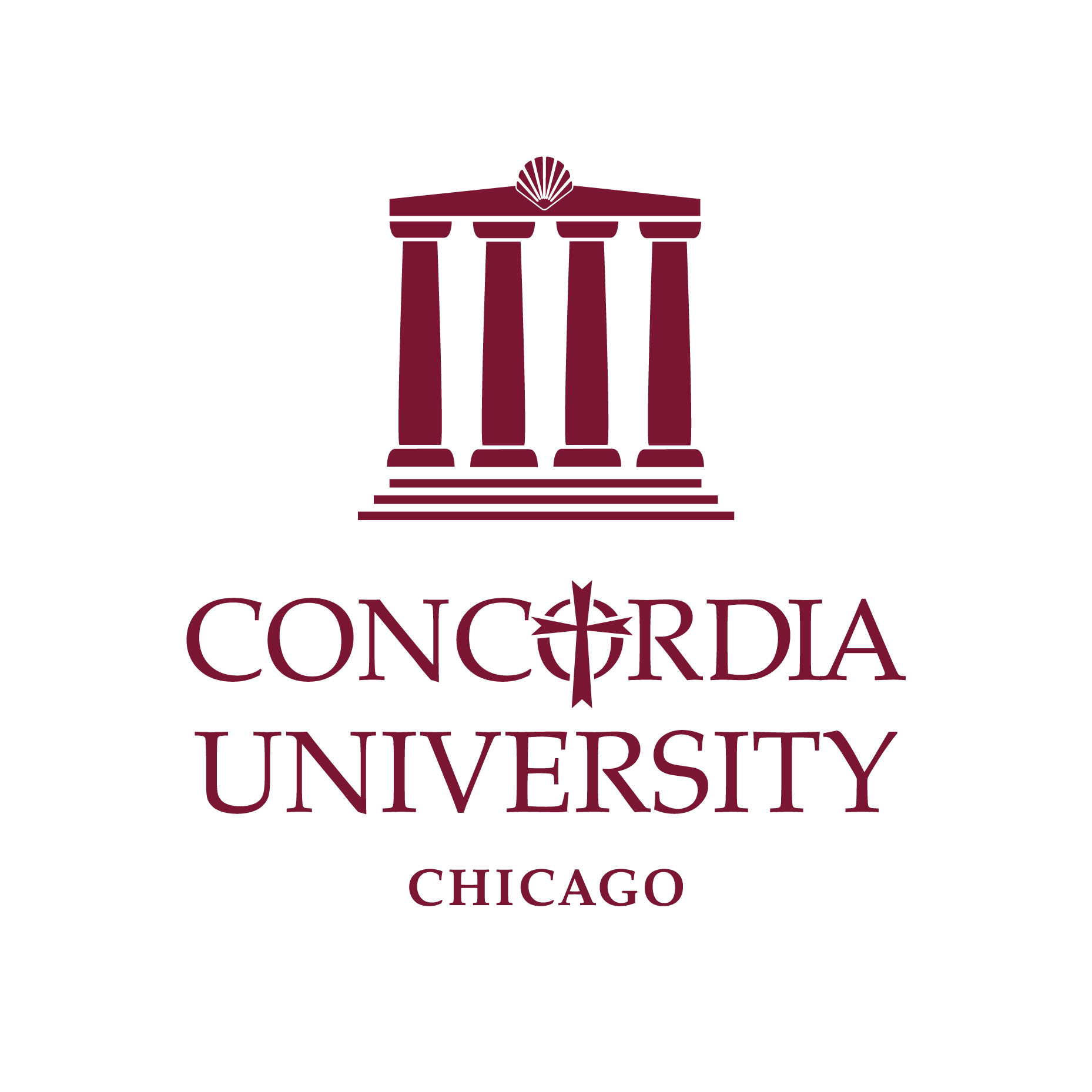 Staff