At Concordia University Chicago we encourage students to think big and engage with the world outside the University.
CougarTank is inspired by the hit ABC show Shark Tank, which gives entrepreneurs the chance to pitch their ideas to a panel of judges with the hope of securing investors.
---
What is Cougar Tank?
CougarTank follows a modified format, with three rounds of judging: a "flip-chart" competition, a PowerPoint fair and a formal presentation. The winners walk away with cash prizes.
The competition provides a platform for developing students' creativity and vision. CougarTank invites all Concordia-Chicago students (all levels) to apply their creative entrepreneurial acumen to develop and share their innovative ideas for a new business.
No financial or formal business plans are needed, just a great idea that solves a problem or harnesses an opportunity with serious market potential! The aim of the competition is to incentivize students to take steps toward creating their career by taking a "risk" and presenting their business idea to a panel of judges. The CougarTank competition takes place each year during the spring semester.
Entering CougarTank
Before the application deadline, the CougarTank Student Board (more on how to join below) hosts information sessions for students interested in participating in CougarTank.
The Student Board will have copies of the application form for students to take and the application will be also be available on the CougarTank website.
All CUC students are invited to compete. The application deadline will be two weeks before the first round of competition. Following the application deadline, one final information session for competitors will take place.
Each team will demonstrate their basic business ideas in front of a panel of judges and a live audience. Each team will talk for three minutes with a flip-chart as visual aid to draw out their business concept. Judges will then have two minutes for Q&A and up to two minutes for scoring. The judges are not looking for in-depth details regarding the business at this stage, the flip-chart competition is focused on ideas. This presentation will give the judges a general idea about each competitor's business idea, what differentiates their business and how much potential the business possesses. The top five teams will enter Round II.
Each of the remaining five teams will present their business ideas via PowerPoint (or similar) presentations in an open business fair. The fair will consist of a five minute presentation, then three minutes for Q&A from judges/audience; competitors will deliver their presentations multiple times to a rotating audience/judges. The top three teams will compete in Round III.
This will be a 'Shark Tank' style presentation in front of an audience and competition judges. Each team will have 10 minutes to present their business idea to the judges. Then the judges will have 10 minutes to ask questions about the business idea. First, Second, and Third place positions will be announced at this event.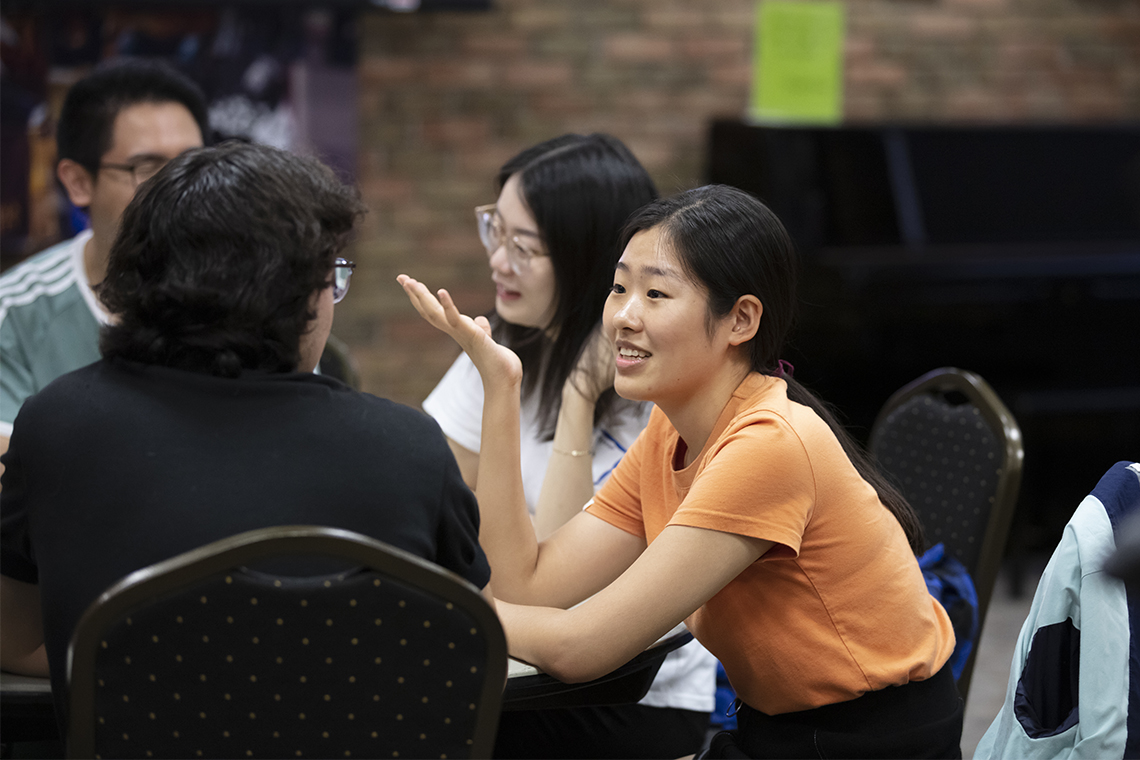 Get Involved with the CougarTank Student Board
This group of 5-9 students (undergraduate, masters, doctoral) will be responsible for:
Organizing and running CougarTank information sessions prior to the application deadline.
Advocating for student engagement in CougarTank.
Developing and participating in identified and approved fundraising efforts for CougarTank under the direction of the COB.
Working with a representative of the College to ensure a well-run competition; this includes but is not limited to, (a) managing the event budget, (b) marketing for the event, and (c) helping coordinate the logistics for the event.
Participating in CougarTank, either as a contestant, emcee, or event staff.
---
Other opportunities to get involved with CougarTank
Beginning for the spring 2020 competition. CougarTank expanded to add individual team coaches. The volunteer coaches are community members who are entrepreneurs, business owners, and/or executives or university faculty members. The coaches are invited to attend each round of competition and are expected to meet with their teams at least two times between each round of competition. Once within a week of the previous round and once closer to the next round to help their team prepare. Coaches will have access to the judging rubrics and will bring their wealth of business world knowledge to their teams.
Each team advancing past the first round will be matched with a coach at the Team/Coach Connection Event. This event is held speed-dating style where each team meets with each coach for 10 minutes before rotating to the next coach. After each coach/team have had the chance to meet teams and coaches will rank their preferred team/coach and matches will be made accordingly.
Are you interested in being a coach? Email Business@CUChicago.edu to get involved.
Due to University regulations, all prize monies must be donated. This event would not be able to exist without its generous sponsors. If you are interested in sponsoring this event please contact the Concordia University Chicago Foundation office: Foundation@CUChicago.edu and please copy Business@CUChicago.edu.
Each round of CougarTank competition has a different type of judge. The first round is judged by Concordia-Chicago faculty. The second round is judged by College of Business alumni.
The third and final round is judged by entrepreneurs and executives. Companies who provide sponsorship to the competition are invited to send a judge for the second and/or third rounds. If you meet these requirements and are interested in judging please contact Business@CUChicago.edu.
An assortment of workshops are offered in the fall semester under the CougarTank banner. These workshops are designed to help students succeed in CougarTank, but one does not have to be interested in competing in CougarTank to attend the workshops. Workshops have been presented on topics such as Personal Branding, Idea Generation, Professional PowerPoint Presentations, Resume Building, etc.
There are a number of events associated with CougarTank that are not directly part of the competition. These events include but are not limited to CougarTank Networking (with past and future contestants and judges), CougarTank Alumni Panel (of past contestants and judges), etc.