Academics
Theatre Alumni
Ronald D. Román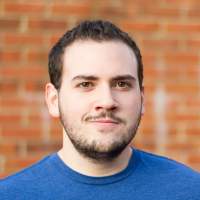 Graduated Fall 2012 B.A. Theatre
What have you been up to since graduation?
After graduating in the Fall, I worked as a freelance Tech Director for Pegasus Players' production of If You Split a Second in the spring and returned to CUC to work with the Theatre for Young Actors workshop for the summer. I started graduate school at Illinois State University in the Fall of 2013 and am currently a member of the acting ensemble for the 2014 Illinois Shakespeare Festival. I'm scheduled to graduate from ISU with an MFA in Classical Acting in the Fall of 2015. After that, I plan to live in a van down by the river.
What are some highlights from your time with ACT?
Taking In The Soundless Awe to KCACTF
Working under Jayme and Jason
Being trusted with such a substantial role as Matt Friedman in Talley's Folly
Being tricked onto the stage by Andy Pederson; auditioned for Twelfth Night asking for a tiny role...Andy gave me Sir Toby...thanks Andy.
Landing a job as a set carpenter at the Forestburgh Playhouse in Forestburgh, NY for their 2010 summer stock season thanks to Jayme's connections; I was asked to return for their 2011 season and was promoted to Assistant TD. Was asked to return for their 2012 season as TD but turned down the job so I could take the summer to prepare for grad-school at ISU.
Mercutio; the whole R&J process actually.
How has your experience with ACT influenced your career?
ACT introduced me to a world that I had never known before. I'd never done theatre before my sophomore year at CUC. Within one semester I went from complete novice to sitting set manager on the ACT board. That summer I spent my first season with Forestburgh and in the semester following that, I did Twelfth Night. ACT is a chance for an utterly immersive theatre experience without any hoops to jump through. ACT helped me get my hands dirty while still learning the ropes; it's a great chance to get a solid taste of the professional world while still living within the safety of the educational environment.
What advice would you give to students considering CUC's Theatre program?
Get involved fast and get involved often. Don't let self-doubt cause you to second-guess diving headfirst into unknown territory. The theatre faculty and staff at CUC are amazing at helping you turn your perceived weaknesses into strengths. If you think you can't they will help you realize that you can. There are not many programs that allow their students to be so holistically involved in the production process. Students who go to CUC will learn to be a kind of Jack-of All-Trades if they embrace the amount of open opportunities allowed to them. Yes it is a small program, but that makes it all the more beautiful and supportive. CUC also finds itself in the unique position of being able to offer its students a realistic professional experience of the Chicago theatre scene through Madison Street Theatre; CUC offers a wonderfully versatile track for its students—if taken full advantage of, theatre students will graduate with a wonderful foundation to either find immediate work in the city or continue on to higher academia.
---